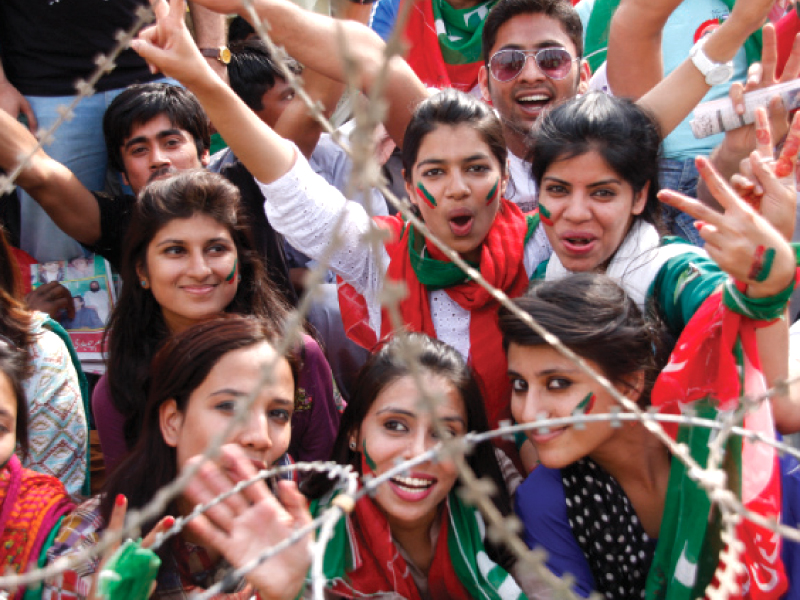 ---
LAHORE:



Though the rain prevented 80,000 elected officer-bearers of the Pakistan Tehreek-i-Insaf (PT) from being sworn in by Imran Khan at Minar-i-Pakistan on Saturday, it did not dampen their enthusiasm for the upcoming elections and their belief that they could make a difference to Pakistan.




Fareed Khan, a PTI candidate for the slot of party vice president in FATA, said he would stay with the party whether or not he won a ticket to contest the general elections. "The elections are to be held again in our area but that doesn't matter. I am going to stay with the PTI whether I lose or win. This is not about coming to power. This is about changing society in the way that Imran Khan has promised," he said.

"Imran Khan is the only leader who had the courage to hold party elections before the general elections," said Abdullah Dogar, who has won a union council seat in the PTI election at Chunian. "This shows that he doesn't want to oblige his favourites but believes in true democracy and wants to give power to the people. I am with him because I want to be a part of the change which he has promised."

Umair Khan, who won a union council election in Gujrat, said he had been attracted by the PTI because it wasn't a "family party" like the PML-N or PPP. "The PTI is all about change and giving rights to the people at all levels. This is not a family political party. This is a party of the people," he said.

PTI Lahore President Aleem Khan said the party was confident that Imran Khan would win all 13 National Assembly seats in Lahore.

PTI General Secretary Dr Yasmeen Rashid said the party backed women's participation in the general elections. "Out of the 80,000 newly-elected office bearers, 24,000 are women elected in open polls. This shows that whoever works hard can rise to upper levels in the PTI," she said. "Our workers are ideological workers. They don't support the party for vested interests, but because they want to bring change in the country."

Some of those at the rally were there because of Imran Khan's success as a cricketer. They included Abdul Jalil, popularly known as Chacha Cricket, wearing his traditional green kamees and white shalwar and leading chants. "I am here because I am a die-hard fan of Imran Khan. He won the World Cup for Pakistan and he can make the country prosperous," he said.

Published in The Express Tribune, March 24th, 2013.
COMMENTS (2)
Comments are moderated and generally will be posted if they are on-topic and not abusive.
For more information, please see our Comments FAQ