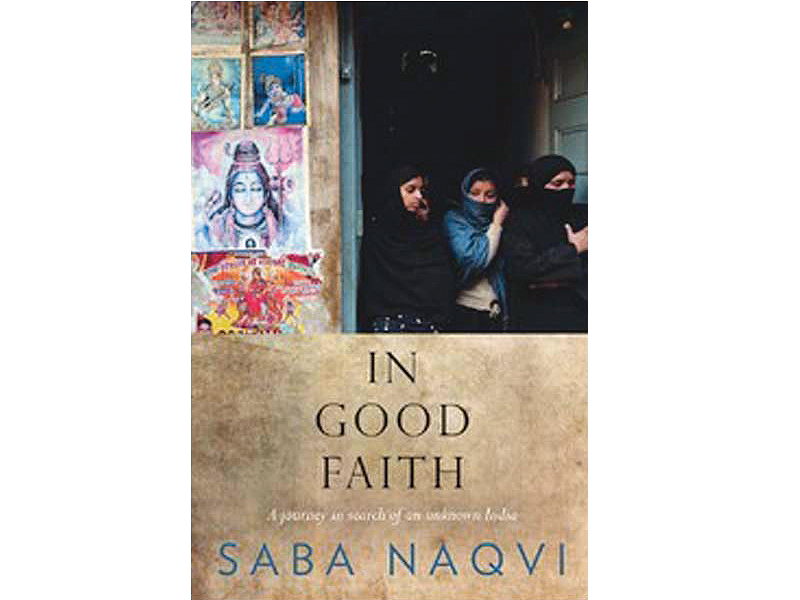 ---
In Good Faith is Saba Naqvi's insight into India's religious diversity. It is a matter-of-fact, hopeful journalistic exploration of the deeper layers of Hindu-Muslim unity that has been a part of India's history and exists to date. She undertakes this journey as a result of her own identity crisis and her search for a safe India, bringing to light many interesting facts that have been either overlooked or deliberately withheld for political ends.

Coming from a mixed Shia-Christian background herself, Saba also brings in her personal experience of belonging to a family that is geographically and culturally divided. Her simple style keeps the reader with her as she walks us past the diverse and multi-cultural fabric of India, from Bengal in the west to Rajasthan in the east, from Tamil Nadu in the south to Kashmir in the north. Not to forget, the state of Maharashtra. The book is like a documentary film that zooms in and out of these pockets and she composes these regions into chapters, making the necessary connections very well. The reader will find details of sufi saints, gurus, devis and devtas, the various places of worship and fusion cultures like that of Bhakti and Sikkhism. The roots of Hindu-Muslim unity go back to Mughal rule in the subcontinent. We are also shown the role of the Marathas (an Indian warrior caste) and the Shiv Sena (the Hindu Nationalist Party) in a different light.

The narration is spiced by references to Indian films that have dealt with Hindu-Muslim unity. Political and geographical references feature in the background, such as the sundarbans of Bengal, the deserts of Rajasthan and the rugged mountainous terrain of Kashmir, making her composition very vivid and interesting.

Though her facts are supported with references, some of them could call for further clarification. For instance, she claims Ashura processions in Moharram began nearly three centuries before the Ganesh and Durga pooja processions, and portrays a softer stance of Shivaji, the founder of the Maratha Empire, towards Muslims, in particular sufi saints.

One can easily see the similarities between Pakistan and India in terms of being multi-religious, multi-ethnic and multi-cultural states — one as the alter ego of the other. Though I would hardly classify the book as esoteric, one must indeed be of an open mindset to appreciate the author's effort.

Published in The Express Tribune, Sunday Magazine, March 24th, 2013.

Like Express Tribune Magazine on Facebook to stay informed and join the conversation.