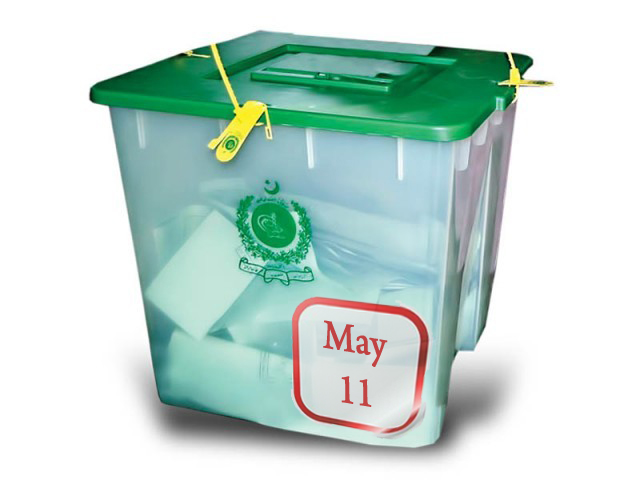 ---
ISLAMABAD: General elections in Pakistan will be held on May 11, Express News reported on Wednesday.

A summary – calling for the announcement of election date – was signed by President Asif Ali Zardari.

"The president received a summary from the government asking him to announce a suitable date for the election, so the president announced today that general elections to the National Assembly will be held on May 11," spokesman Farhatullah Babar told AFP.

The election day will fall on Saturday and is 52 days away from today.

Pakistan's current setup was the country's first civilian administration since independence to complete its full term.

The 13th National Assembly during its 50 regular sessions passed 134 bills, including 18 private members' bills, over the course of 521 sittings. In the flurry of activity, the assembly witnessed historic changes, dramatic dialogue, and even crucial shortfalls.

The provincial assemblies in Balochistan, Sindh and Khyber-Pakhtunkhwa were dissolved on March 19, while the Punjab Assembly is expected to follow suit today.

Poll schedule 

The Election Commission of Pakistan (ECP) revealed that the final election schedule will be announced after March 23.

The process of collecting nomination papers will start from March 25 and will continue till March 30. All the potential candidates, who wish to contest the elections, must submit their nomination papers by March 30.

The ECP further stated that it has allocated seven days to analyse the nomination papers and will submit the final list of candidates, approved for upcoming elections, on April 19.

Any candidate who decides to withdraw from the elections can do so by April 18.

The ECP completed the printing of new nomination forms on March 14 following an intense wrangling with the law ministry regarding the new format of the forms that included additional columns about the financial and tax history of contestants. The law ministry had rejected the new format raising objections over most of the new columns inserted in the forms.


COMMENTS (18)
Comments are moderated and generally will be posted if they are on-topic and not abusive.
For more information, please see our Comments FAQ