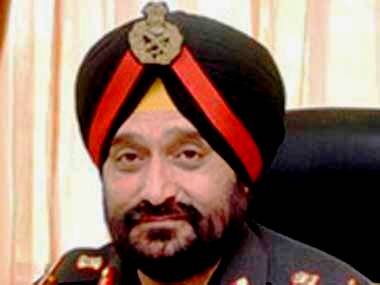 ---
Indian Army Chief Bikram Singh on Saturday issued a stern warning to Pakistan by saying that Indian soldiers won't remain quiet if the neighbouring country violated the ceasefire at LoC.

"If they [Pakistani troops] violate ceasefire, hum bhi churian pehan ke nahin baithe hain [we are not wearing bangles]. Our men also fire. This work is done at the tactical level and it is happening," Army chief  asserted.

He said the Indian Army was giving a "befitting" reply to any ceasefire violations by Pakistani troops.However, Bikram Singh said that he didn't want to comment on Pakistani Prime Minister Pervaiz Ashraf's Ajmer visit.

"Our soldiers are not sitting idle. We won't remain quiet if they violate the ceasefire. This keeps on happening at the ground. The battalion commanders are the best people to reply," Singh replied when asked about the situation at the Line of Control.

Commenting on the Pakistani PM's visit, Army Chief Gen Bikram Singh said, "It [visit of Pakistan PM] is a political decision, let's not make an issue out of it. Let the government take the decision. Being an Army chief, I would not like to comment on it."

However, he said the Indian Army had already conveyed its concern to the centre on the issue of ceasefire violations, beheading of an Indian soldier and brutal killing of another soldier by Pakistani troops in January.

"At that time, we showed our concern.We have shown our emotions [to the Centre]," the Army Chief,said.

"This action [reacting to ceasefire violations] is seen at the lower level and not decided at the Army Chief's level,"he pointed out.

Earlier, addressing the gathering, Singh asked ex-servicemen to remain apolitical having been part of the disciplined force.

"I want that our ex-servicemen associations should not get politicised. We need to be disciplined. I am seeing that ex-servicemen associations are becoming political. It should not happen. We are secular and it is important, he asserted.

Earlier in January, India's army chief threatened to retaliate against Pakistan for the killing of two soldiers in fighting near the border of the disputed region of Kashmir, saying he had asked his commanders there to be aggressive in the face of provocation.