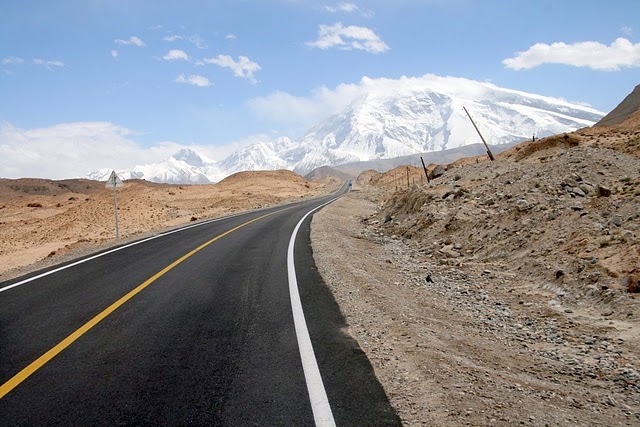 ---
ISLAMABAD:



Amid fresh security threats, the Gilgit-Baltistan administration has put in place "extraordinary measures" to pre-empt any act of violence along the Karakoram Highway.




A senior official of G-B administration said that the interior ministry advised authorities in G-B and Khyber-Pakhtunkhwa to take extraordinary measures while warning of possible terror threats at the strategically located highway which connects Pakistan with China.

When contacted, Additional Chief Secretary G-B Assadullah Faiz said that the security measures were taken keeping in mind the sensitivity of the area, as terrorists had been carrying out attacks there in the past.

He added that paramilitary forces deployed on KKH have been put on high alert to avoid any untoward incident near the days marking the first anniversary of the Harban Nala incident.

On February 28, 2012 the outlawed terrorist group Jundallah claimed to have carried out a brutal attack on a bus, killing at least 18 people in Harban Nala area of the Kohistan district of Khyber-Pakhtunkhwa.

Faiz said that the G-B administration receives general intelligence about Karakoram Highway security from time to time, but there are no 'targeted tips' this time.

Faiz said, due to the sensitivity of the route, extraordinary security measures need to be taken.

He said that G-B administration is in close coordination with authorities in K-P as a large part of the KKH falls in their jurisdiction.

He said that in addition to ground security measures, army helicopters are on standby in Gilgit and Skardu to meet any emergency on the highway.

During 2012, around 50 passengers lost their lives in attacks by terrorists on the highway. In April last year, a mob dragged nine passengers from buses and shot them dead in Chilas town. Later in the year, 17 Shia passengers were killed at Babosar Top, when three passenger buses came under attack.

Security authorities in G-B have established a special force, led by a senior army officer and comprising 400 personnel, to protect passengers along the long route.

Published in The Express Tribune, March 4th, 2013.
COMMENTS
Comments are moderated and generally will be posted if they are on-topic and not abusive.
For more information, please see our Comments FAQ