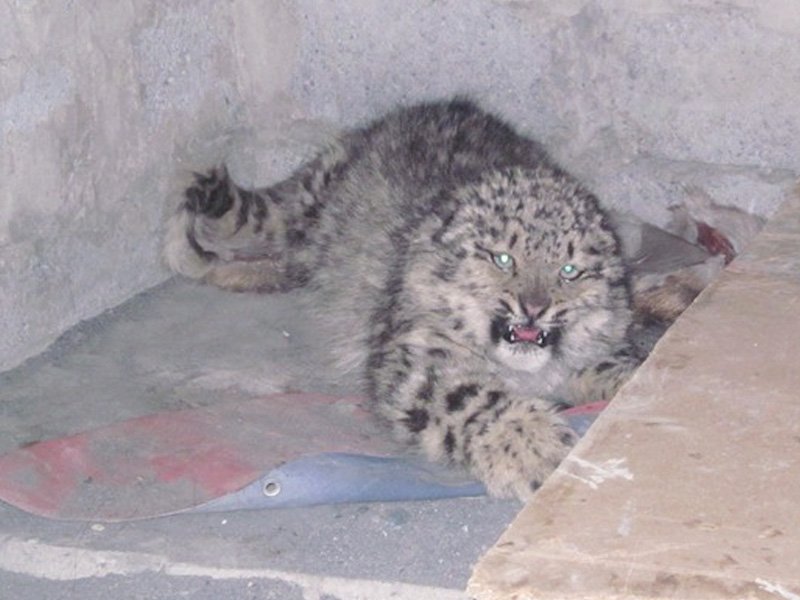 ---
GILGIT: Life's not easy if you injure yourself while jumping rocks on a river – especially if you are a furry little snow leopard, left languishing in a small brick hut, away from the jungle. 

All hell broke loose when the little cub and his mother were crossing a river near the Khunjerab National Park in G-B in late December. In a sorry turn of fate, the leopardess reached the other side, but her child, who had hurt himself, was left behind. Upon being spotted by guards of the wildlife department, the little ball of fur was brought to a small village on the Pak-China border called Dhee and christened Qiq Maman, which means 'little boy' in the local language Wakhi.

Visibly 'forest-sick', Qiq Maman lazes away on his red mat in the hut, and looks quite uncared for. The hut he lives in is both stuffy and dusty as the wildlife department fails to abide by the standard of allowing animals a replica of their natural habitat in captivity – a problem stemming largely from a lack of funds.




"We don't have any spare funds as such to meet the expenses on the cub but we are somehow making it happen," says Aftab Mehmood, Divisional Forest Officer under the wildlife department.

"The cub is in good health, and lodged in a hut as wide as 8x10 feet. Moreover, staff having prior experience of dealing with such situations is looking after it."

Supplanting animals in an artificial environment is considered detrimental to their welfare by experts. "We should discourage the trend of 'rescuing wild animals' after incidents and putting them in cages. Rather they should be left alone to fight on their own as nature is the best teacher which trains how to cope with such situations," suggested some wildlife experts during a meeting called to discuss Qiq Maman's health.




Concerns were also raised about the cub's struggle to adjust to wilderness after he was released from the 'artificial' environment.

Shipped elsewhere

The provincial department of wildlife has transported animals abroad in face of insufficient resources to care for them. In 2005, Pakistan handed over a cub named Leo to the Bronx Zoo in USA mainly because G-B didn't have a suitable facility and trained human resource to keep the animal.

Another leopard, captured in Sadpara of Skardu Valley last year, died of illness.

Enlisted as endangered in the International Union for the Conservation of Nature (IUCN) Red List, the snow leopard is considered the flagship species of high mountain areas. The estimated population of this species, reportedly found in Chitral, G-B and parts of Kashmir, is about 300.

"We realise that G-B doesn't have a permanent facility like a rehabilitation centre to deal with such cases," says Dr Babar Khan, who heads the World Wide Fund for Nature in G-B.

"That's why we are working on a proposal with the wildlife department to not only make an improvised wildlife rehabilitation centre but also a full year plan for better nourishment and care of the cub."

Dr Khan says that the estimated cost of the project would be slightly more than Rs3 million, of which WWF would bear nearly Rs2.5 million while the rest would be borne by the wildlife department. Once the facility is ready and the cub spends one year in it, the decision about its release or otherwise would be taken, depending on his condition.

Published in The Express Tribune, March 4th, 2013.