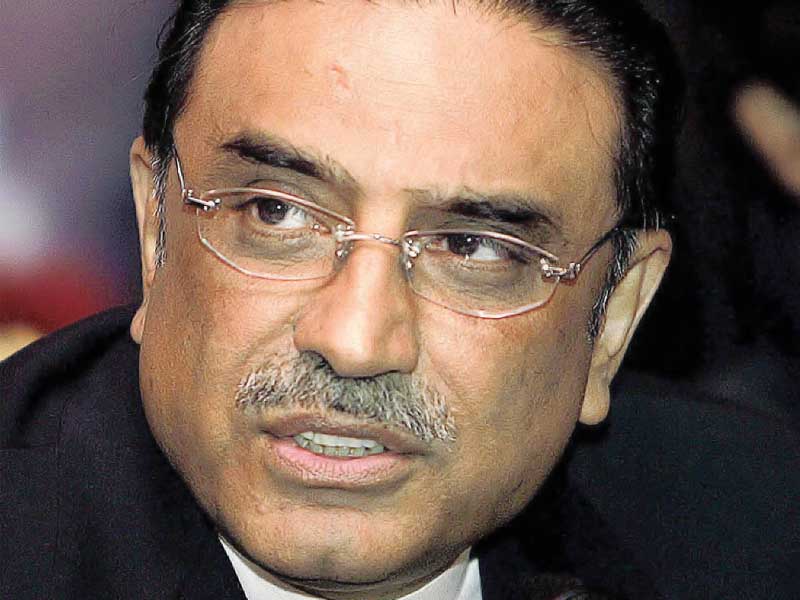 ---
LAHORE:



Two days after the United States issued a veiled warning to Pakistan over its plan to import natural gas from Iran, President Asif Ali Zardari said on Saturday that the multibillion dollar project would be completed at any cost.




"Nobody has the power to halt this project," President Zardari told a group of senior newspaper editors and television anchorpersons at Bilawal House in Lahore on Saturday. As a sovereign state, Pakistan can sign an agreement with any country in order to tackle the energy crisis, he added.

The US State Department said on Wednesday that Washington was providing Islamabad with alternative means to help overcome its energy crisis and to avoid sanctions. "It's in their best interests to avoid any sanctionable activity, and we think that we provide and are providing ... a better way to meet their energy needs," said deputy acting spokesman Patrick Ventrell.

In Saturday's interaction, President Zardari said that he would take up the matter with US President Barack Obama's administration. He also defended his government's decision to hand over the operational control of Gwadar deep seaport to China, dismissing India's concerns over the strategic port.




The president, however, called for a national consensus on both the projects, saying that if the nation is united, no external power can harm Pakistan. "Pakistani nation will own the Iran gas pipeline project," he added.

Without naming anyone, President Zardari said that some political parties are lenient on "non-state actors". He predicted that "non-state actors" would weaken as political parties strengthened.

Although he did not elaborate, the Interior Minister Rehman Malik has been hitting out at PML-N's government in Punjab for, what he calls, its reluctance to crackdown on bases of Lashkar-e-Jhangvi, an extremist group blamed for most sectarian violence in the country.

The president also reassured that the next parliamentary elections would be held on time and nobody would be allowed to derail the democratic process. Any political party winning a majority would be asked to form the next government, he added.

Referring to one of his predecessors who has been criticised for some of his controversial decisions, Zardari said, "I'll not become a Ghulam Ishaq Khan. I'll swear in any government formed as a result of the parliamentary election."

President Zardari said that former premier Yousaf Raza Gilani would lead the political campaign of the Pakistan Peoples Party. Gilani will address public rallies of the party during the campaign, he added.

About the festering Balochistan issue, President Zardari defended the Agaz-e-Haqooq-e-Balochistan Package, saying his government could not offer more.  He added that all political parties of the province would contest the next election.

Separately, PML-Q leaders Chaudhry Shujaat Hussain and Chaudhry Pervaiz Elahi also met with President Zardari at Bilawal House. A host of issues, including the country's overall political situation, interim government and seat adjustment between the PPP and PML-Q, were discussed.

The president is said to have asked the Chaudhrys to come up with their choice for caretaker prime minister within the next four days. PPP and PML-Q leaders would have a followup meeting within three days on the issue.


Published in The Express Tribune, March 3rd, 2013.
COMMENTS (17)
Comments are moderated and generally will be posted if they are on-topic and not abusive.
For more information, please see our Comments FAQ