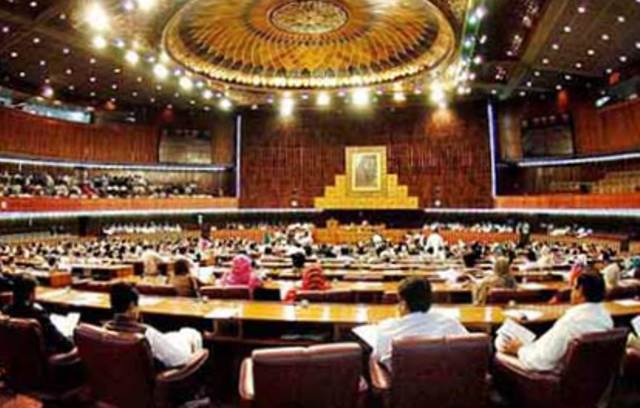 ---
ISLAMABAD:



With its last session nearing its end, the National Assembly passed on Thursday three more bills, including one seeking the establishment of yet another university in the federal capital.




The bills were approved by the lower house after making amendments proposed by main opposition party the Pakistan Muslim League-Nawaz (PML-N).

The Federal Ombudsmen Institutional Reforms Bill 2013 was passed after Zahid Hamid from the PML-N proposed the removal of some clauses inserted by the government, which he said, defeated the purpose of the legislation.

Through the bill, Hamid said, the ombudsman had been given additional responsibilities, such as the power to create new posts.

S A Iqbal Qadri from the Muttahida Qaumi Movement (MQM) pointed out that the ombudsman had been given powers of a civil court. He objected over the ombudsman's power to punish for contempt (clause 12). All lacunas were removed by both members' separate amendments, in this regard.




The house also allowed MNA Riaz Fatyana to table the Pakistan Psychological Council Bill 2013, which was passed after the approval of nine amendments moved by the PML-N.

However, the house deferred the 23rd Amendment Bill 2012, aimed at increasing the number of minority seats in Parliament.

Meanwhile, State Minister for Interior Imtiaz Safdar Warriach informed the house that the National Database and Registration Authority (NADRA) was producing 40,000 computerised national identity cards daily.

Responding to a calling attention notice, the minister said the involvement of private agents at various registration centres cannot be ruled out but assured action against those involved in illegal activities.

He also said that at present 54 NADRA centres are running in Hyderabad, 66 in Sukkur and 57 in Karachi and added that all under process CNICs would be delivered within the due date.




Question hour

Finance Minister Saleem H Mandviwalla informed the house that Rs138.8 billion had been written-off by banks during the last five years. According to the year-wise breakdown, the largest amount – Rs47 billion –was written-off in 2008.

Responding to a question by Nighat Parveen Mir of the PML-N regarding steps taken by the government to control the smuggling of luxury vehicles, Mandviwalla said that despite the introduction of legislation, smuggling was still not curbed. However, he said 5,937 vehicles had been impounded.

Published in The Express Tribune, March 1st, 2013.