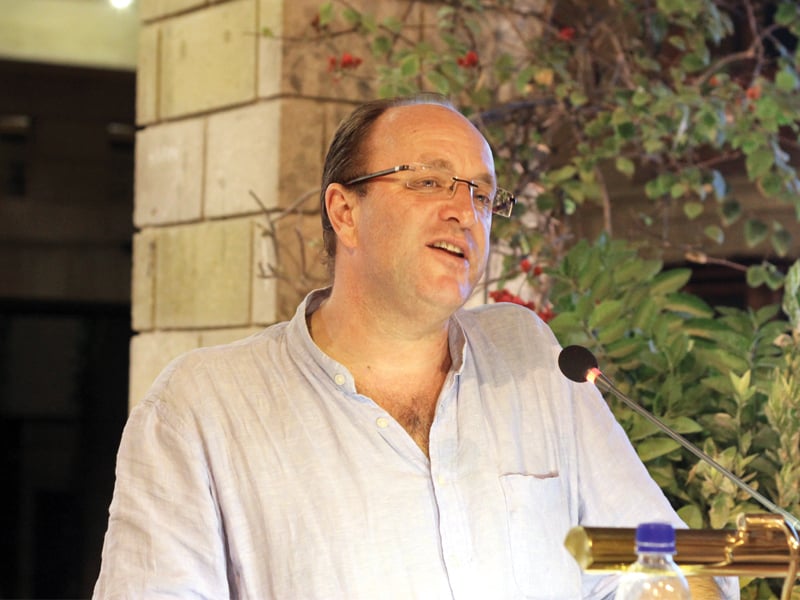 ---
KARACHI: Like his prose, historian William Dalrymple's speaking skills are spellbinding. On Monday, the people who attended the launch of his latest book 'Return of a King' at Indus Valley School of Art and Architecture seemed to be in a trance as he spoke for well over an hour.

The book, which is about the first British invasion of Afghanistan, gets its title from Shah Shuja, an Afghan king who the British brought back to the throne. It is the last of a trilogy about the East India Company - the first two books in the series being 'The White Mughal' and 'The Last Mughal'.

"The book is about the failure of around 20,000 troops of the British and East India Company as they marched into Afghanistan in 1839," said Dalrymple.

Just three years later, out of thousands of troops, only one man, Sir Brighton, survived. "He survived because he always carried a literary magazine which would sheild him from swords. Always carry a literary magazine with you," quipped Dalrymple.

He then went on to paint a humorous account of the army to a giggling audience. "They had 30,000 camels - 30 to carry wine and 10 for cigars. They had everything, but they didn't have a proper map. They had no idea where they were going," said Dalrymple.

"British intelligence was as clued-up then as it is today. Once the British got in, they were confident that they had easily occupied Afghanistan…similar to how [Tony] Blair and [George] Bush felt."




The British didn't build fortresses around their camps and they did not know how to survive in the cold weather.

The nail in the coffin was when they started chasing after Afghan women, chuckled Dalrymple. Alexander Burnes, the troop's intelligence officer, got intimate with a girl working for the nobles of the Afghan court, and this greatly upset them.

Dalrymple said favourite line in the book is when the Afghans say, "We have to put a stop right here otherwise these [troops] will ride the donkey of their desires into the field of stupidity."

As people queued up for the book signing session, Dalrymple said his next book would be on art and culture.

Gazing at the crystal ball

"I don't know contemporary Afghanistan better than I know the 19th century Afghanistan," said the author. But he did share his views of what he thinks will happen when the US pulls its troops out from Afghanistan in 2014. "There will be decentralisation. The situation would be similar to the Indo-Pak proxy war. In the worst case scenario, Afghanistan could be like a second Kashmir."

He said there is no reason why Afghanistan has to be a war zone, adding that countries should stop spending their resources on training Afghan soldiers and fighting their wars. "Afghanistan has never paid for its own army or for their conquests."

He added that when he went to Afghanistan for research, the tribesmen told him that the foreigners enter the country for their own interests.

Published in The Express Tribune, February 27th, 2013.