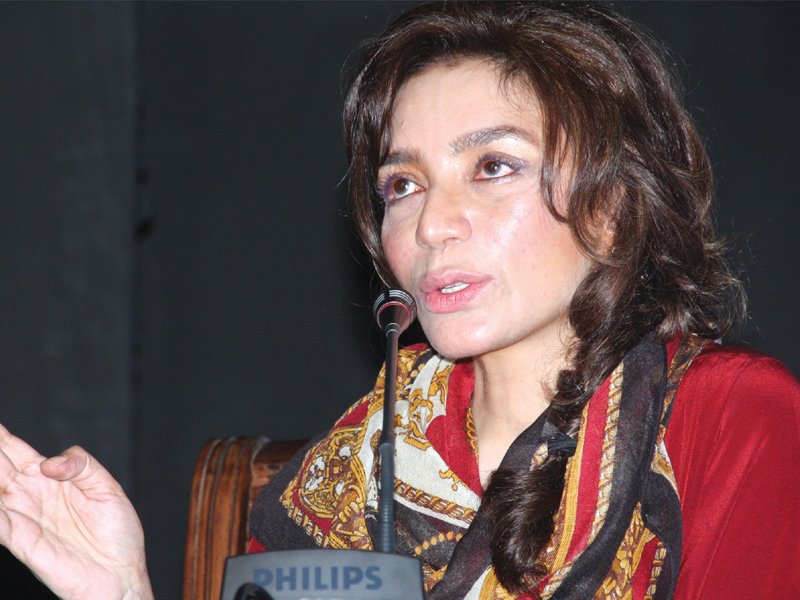 ---
LAHORE:



"Much as people think I wrote [My Feudal Lord] out of vengeance, I actually wrote it [for myself] to understand what had actually happened to me. It is not just about me. It is a universal story …about the struggle and abuse women face".




Tehmina Durrani, author of My Feudal Lord (1991), which speaks of an abusive marriage to a former governor and chief minister of the Punjab, was speaking on the last day of the Lahore Literary Festival, first public appearance in 12 years.

As Nusrat Jamil, a member of the LLF advisory board and a close friend of Durrani, introduced the writer, the audience were still pouring in.

"I cannot tell you how touched I am by your enthusiasm. Today is a very memorable day. I have stepped out in public after 12 years," Durrani said and the audience broke into applause. Speaking about sharing personal trials and tribulations, Durrani said she couldn't hold back. "I just had to tell my story," she said, "It was an honest outburst". Some 10 minutes into the session, she was interrupted by a commotion outside the hall by people who were not being allowed to enter.

Durrani said there were consequences she had to face following the publication of the book.  "It was traumatic to be all alone with a story like My Feudal Lord," she said.

She said that her family had disowned her for 13 years. She said the women of her family - close and extended - were forbidden from meeting her, making her "uncomfortable with people" for a very long time.

"They would say no one would marry their daughters [if they met me]. I said no one should marry my daughters if they thought that breaking the silence was wrong," she said to loud applause.

About sharing her experience of physical abuse by her former husband, she said it was very "shameful" feeling.

"I remember covering those scars because you just don't want to let people know what you are going through."

Durrani is also the author of Abdul Sattar Edhi's biography. She called writing it an "empowering opportunity".

"I think the biography is the most powerful piece of writing I have done so far."

Speaking about her book Blasphemy (1998)– a fiction narrating a woman's tale of hardships- Durrani said she wrote about the system, something she couldn't in her previous book.

"For me blasphemy is when the word of God and the teachings of the Holy Prophet (pbuh) are distorted. What could be more blasphemous than that?" she asked.

She later talked about writing her new book Happy Things in Sorrow Times, expected to be launched at Alhamra on March 9. The book she has illustrated herself was inspired by what she said was one of the happiest times of her life.

Published in The Express Tribune, February 25th, 2013.