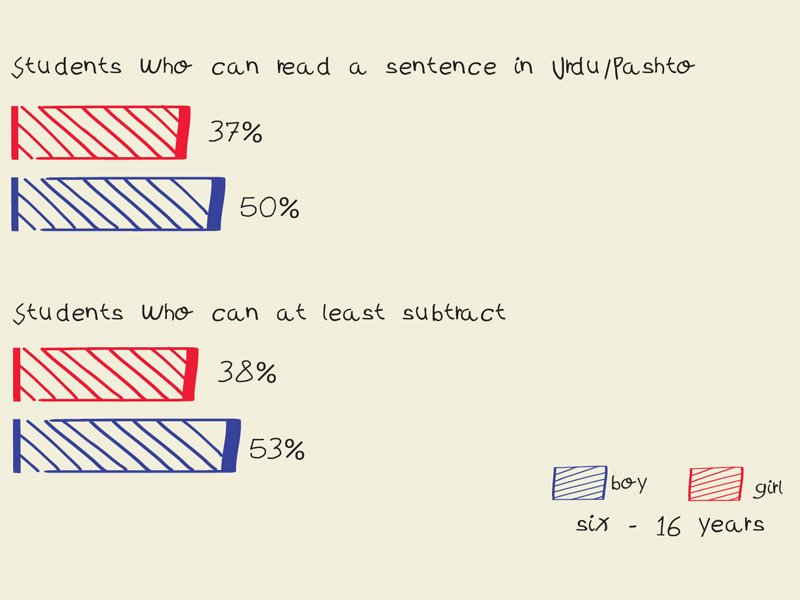 ---
KARACHI:
This year's report investigated 23 districts, while 14 were reviewed last year. Buner and Kohistan were not surveyed in both reports.

Children between six and 16 were gauged on reading Urdu/Pashto and English. Their arithmetic abilities were judged by how advanced their subtraction and division skills were.

The literacy assessments cover grade two text capabilities and the arithmetic tool covers class three skills as determined by the national curriculum.

State of educational affairs in rural K-P

A total 40,606 children (62% male, 38% female) were surveyed in villages in K-P. Out of those, 9% girls and 7% boys between the ages of six and 16 were "out of school". Aser defines out-of-school children as those who never enrolled and those who dropped out.

Enrolment figures were slightly worse in comparison with 2011, when 9% girls and 6% boys were not enrolled in educational institutes.

'For every 14 children enrolled in class one, only six were enrolled in class 10,' stated the Aser 2012.

According to Education Sector Reform Unit Deputy Director Farid Khattak, the problem with enrolment lies in access. "The underpinning issue is access. We have more primary schools and fewer high schools, a problem we are trying to fix. But these numbers don't reflect the traditional drop-outs, it's a lack of access to secondary schools."

The Aser team agrees with the assessment. "Access becomes more difficult as there are more primary schools than any other institution." They went on to add, "The transition phase from primary to post-primary and beyond is crucial in retaining students. Due to a lack of quality in early schooling they cannot cope with secondary workload."

Although overall learning capabilities showed an improvement from the previous year, things remain woefully below any acceptable standard.

Only 8.8% children in class two could read a class-two level story in the local language. Of those surveyed in grade 10, 91% could read the story, reflecting that all 16-year-olds were unable to read the grade 2 text.

Children in grade five did slightly better than last year – 43% were able to read the story – outperforming the 2011 result by 11%.

To make matters worse, arithmetic competencies fell in comparison to 2011. Only 34% of those studying in class five could solve 3-digit division problems as compared with 38% in 2011.

Private vs state

Of the 84% children (aged six to 16) in school, 29.4% were in private schools, 1.6% were enrolled in madrassas and 0.2% in uncategorised non-state institutions.

It would seem a fairly significant proportion of educational demands were being met by the private sector in villages in K-P.

Aser volunteers also attended a sample of schools in every district to gauge facilities and determine the regularity with which students and teachers attended. This was determined by a headcount on the actual day of the school visit and school records.

In government schools, overall student attendance stood at 85% and 87% in primary schools.

As far as teacher presence was concerned, 13% in government and 12% in private schools were not in attendance. In fact, an Aser representative cites "teacher absenteeism" as one of the biggest hurdles faced by children in accessing education.

Private-schooled children outperformed government schools in reading English, Urdu/Pashto, number recognition, subtraction and division.

Only 35% preschoolers out of 8,752 studied were enrolled. The private sector absorbed roughly 35.3%-37%in private preschools, 1.5% in madrasas and 0.3% in other institutions.

From parents down to their offspring, males were more numerate and literate. Out of the 13,702 households sampled, 79% of mothers had not completed primary education as compared with 48% of the fathers.

Girls aged six to 16 lagged behind boys of comparative ages in reading Urdu/Pashto and English.

Urban Peshawar

Of the six to 16 year olds surveyed there, 93.2% were enrolled in school with 25% and 75% in government and private schools respectively. This was in stark contrast to the results from the rural study where only 29.4% attended private schools.

Looking at the 6.8% out-of-school children, only 0.3% were dropouts.

Unfortunately, learning capacity did not seem to be on the mend when compared with 2011. Comparing grade six children, at least 69% were able to read a story in the local language last year. Only 43% could do the same in 2012.

As was seen with the rural sample, at least 8% of 16-year-olds could not read a grade two story.

Similarly in 2011, 79% children from class six were able to read sentences in English – this dropped to 49% in 2012.

Children in grade three and four showed nominal improvement in division skills in 2012 but the number of children who could solve such sums fell by at least 10% for grade five and an abysmal 22% for grade six students.

This year's results also reflected a sharp decline in the percentage of children taking private tuition. In private schools, only 7% paid for tuition, in contrast to 34% in 2011.

Gender-oriented differences were evident – there has been greater improvement in boys enrolled. The percentage of boys out of school halved to 3% in 2012.

From the households sampled, 39% of the mothers had completed primary education. Again, girls lagged behind boys in reading Urdu/Pashto and English. However, their arithmetic abilities were relatively at par, with 50% girls and 55% boys able to at least solve level three subtraction problems.

Published in The Express Tribune, February 25th, 2013.
COMMENTS
Comments are moderated and generally will be posted if they are on-topic and not abusive.
For more information, please see our Comments FAQ