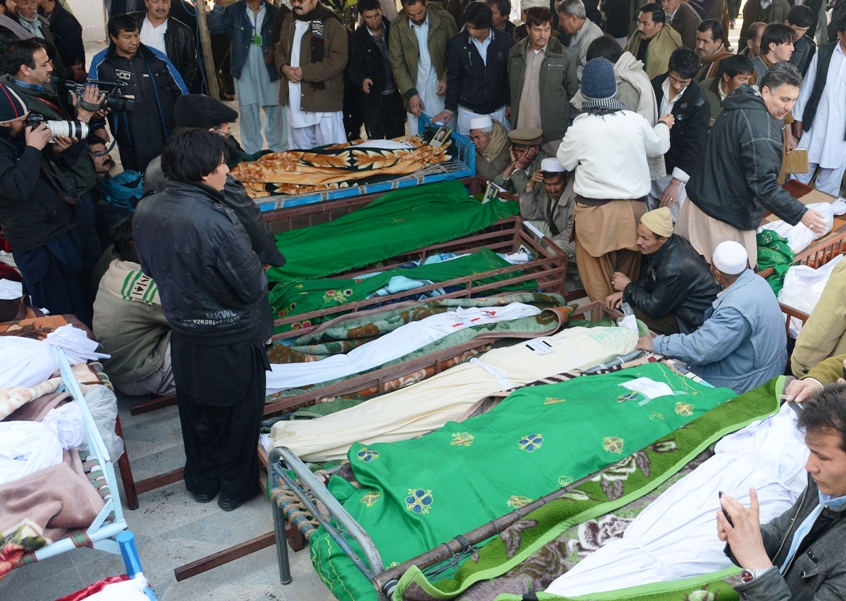 ---
QUETTA/ UNITED NATIONS: Demanding an army operation against sectarian killers, the families of the victims of Quetta bombing have given 48-hour ultimatum to the government, Express News reported on Monday.

On February 16, a massive bomb ripped though a busy market in a Shia Hazara neighbourhood of Quetta, killing more than 80 people and injuring nearly 200.

The outlawed sectarian group Lashkar-e-Jhangvi (LeJ) claimed responsibility for the deadly bombing.

The families have refused to bury the dead in protest and the bodies are placed in different imambargahs of the city.

Quetta police chief Wazir Khan Nasir said, "We are going to resume negotiations with the Shia community leaders this morning to convince them to bury the dead."

However Shia leader Qayyum Changezi said the protesters "will not bury the dead until a targeted operation is launched".

Spokesman for an alliance of Shia groups Syed Muhammad Hadi also said, "We stand firm for our demands of handing over the city to army and carrying out targeted operation against terrorists and their supporters."

"We will not bury the bodies unless our demands are met."

The paramilitary Frontier Corps is largely responsible for security in Balochistan Shias say it is unable or unwilling to protect them.

The LeJ has stepped up suicide bombings and shootings recently. The group was behind a bombing last month in Quetta that killed nearly 100 people.

UN chief condemns

UN Secretary General Ban Ki-moon "strongly" condemned the bomb blast in Quetta, calling on authorities to act quickly against those responsible, his spokesman Martin Nesirky said.

Noting that this is the second attack against the Shia community in Quetta in the last few weeks, Ban "calls for swift and determined action against those claiming responsibility and perpetrating such actions," Nesirky said in a statement.

He "reiterates the strong support of the United Nations for efforts by the Government and people of Pakistan to protect religious and ethnic minorities and to combat the scourge of terrorism," the spokesman added.

Earlier twin bombings in Quetta in January led to the imposition of governor's rule in the province.
COMMENTS (24)
Comments are moderated and generally will be posted if they are on-topic and not abusive.
For more information, please see our Comments FAQ