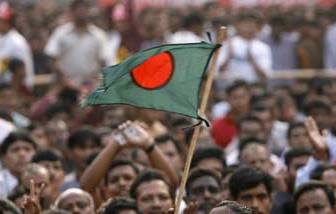 ---
DHAKA: Bangladesh's Parliament on Sunday amended a law to allow the prosecution of the country's largest Islamic party Jamaat-e-Islami for war crimes, in a move that could pave the way to it being banned.

News of the move was greeted by loud cheers from thousands of protesters in central Dhaka who have been demanding a ban on Jamaat, whose leaders are on trial for war crimes allegedly committed in the 1971 war of independence from Pakistan.

Law minister Shafique Ahmed told AFP that under the new law "any organisation including Jamaat can be prosecuted" by a special court for war crimes and if found guilty "it can be banned" from politics.

Previously only individuals could be prosecuted for war crimes.

"It's one step towards banning Jamaat," deputy law minister Qamrul Islam told AFP.

The move comes after Prime Minister Sheikh Hasina on Saturday indicated that she would back a ban on Jamaat, whose members are suspected in the murder of an anti-Islamist blogger, as it had "no right to be in politics in free Bangladesh".

Published in The Express Tribune, February 18th, 2013.
COMMENTS (10)
Comments are moderated and generally will be posted if they are on-topic and not abusive.
For more information, please see our Comments FAQ