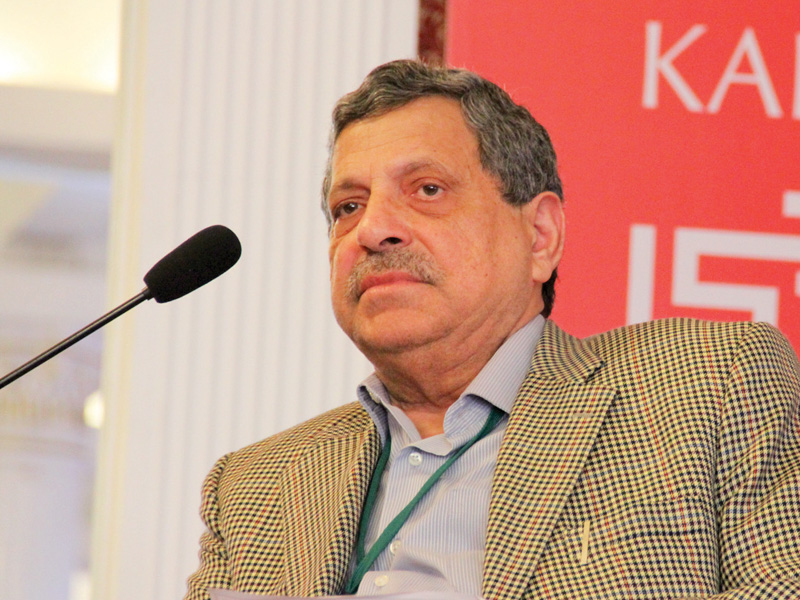 ---
KARACHI: The cloud of gloom after Saturday's Hazara killings made its way to the third day of the Karachi Literature Festival on Sunday morning.

The madness of the attack, and accompanying hatred against a sect, was deemed by panellists a direct result of lack of secularism — a subject they were gathered to debate upon.

Lawyer and advocate Asma Jahangir, having condemned the attack in strong words, said: "No, I am not saying that secularism is the complete removal of religion from people's lives. Follow your religion, but follow it like it's meant to be followed. Extremism and the suppression of other faiths is not what our faith teaches."

Quite unanimously, the panel, which included Justice Nasira Iqbal from the Lahore High Court, Supreme Court Senior Advocate Hamid Khan, writer Javed Jabbar (moderated by writer Irfan Hussain), agreed that the Hazara killings were a grotesque example of religious extremism.

Justice Iqbal agreed with Jahangir and stated that the true nature of Islam was secular — something religious extremists fail to grasp. "We are reminded of the Meesaq-e-Madina, we are reminded of the social contract under which the Muslims and Jews lived together as a community. A community of difference, no doubt, but difference that was embraced."




"The problem is that people think secularism is laadinayat – synonymous to atheism. But the fact is secularism, as an idea, does not dictate or sanction a religion, and neither does it approve the lack of religion in public affairs," said Hamid Khan, adding that the mixing up of these two concepts was what made secularism so unpalatable for people. "The thing we must understand is that secularism comprises two points: no establishment of religion, and the free exercise of religion. It is difficult to entertain both these concepts."

At this point, Jehangir spoke out to condemn 'laadiniyat': "Discouraging all symbols of faith in the public sphere, as practised in France and Turkey, is completely unjust."

Jabbar explained that the difficulty in grasping the concept occurs because secularism, as an idea, was new and still evolving. "Mr [Muhammad Ali) Jinnah was himself struggling with several concepts: what did it mean to create a separate state for the Muslims, and yet steer clear from a theocratic model?"

The contradiction was a glaring problem for others on the panel too. "People ask: if you wanted a secular state, why did you break from India?

All's not lost

Despite the extremism which is causing tragedies like Saturday's, Pakistanis are a largely secular people, as never has a party been elected solely for its religious call, observed Jabbar.

"Extremism is worse in India. Pakistan is a secular society in a religious state; whereas India is a religious society in a secular state." Jehangir contended. "In India, the state's secularism overtakes the society's deep religiosity – which is marvellous."

The need to include secular concepts in school-level textbooks was agreed upon as a Hindu audience member exclaimed, "My child is not a Muslim. Why should he read 'I am a Muslim' in his textbooks?"

Published in The Express Tribune, February 18th, 2013.