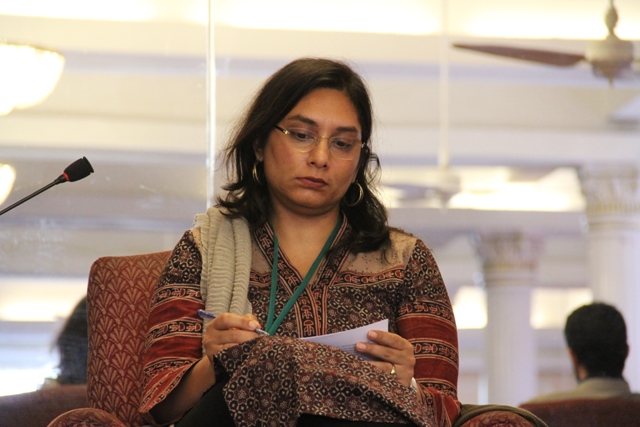 ---
KARACHI:



The snippets of Sindhi, Urdu, Pashto, Balochi, and other languages that you hear on the streets of Karachi, the hijrah who peeks through your car window to offer blessings, the ticker-tape of killings that streams across the bottom of your television screen every minute and the swift way markets shut down.




"Karachi is a difficult city to live in, and that makes it so easy to write on." Writer Bina Shah's description of Karachi met several nods from other panel members in a session on the 'Dynamics of Karachi' on day three of the fourth Karachi Literature Festival.

Kamran Asdar Ali, who is a professor at the University of Texas at Austin, moderated the much-awaited discussion. With National Public Radio's Steve Inskeep, writer Aquila Ismail, scholar Laurent Gayer, Shah, and architect and urban planner Arif Hasan, it was no surprise that Kamila Shamsie, Maniza Naqvi and other Karachi writers made it a point to be present.

Ali asked questions that many of us have wondered about. In a city of multiple languages, classes and associations, can we create politics that goes beyond our differences? What are the organic factors that define Karachi? Can we ever have a tacit agreement to get along with each other? "Perhaps, we have a seduction with the present. Perhaps, we need to take a back seat and focus on the future for a change," Ali said.




Inskeep admitted that the city's diversity was the first thing he learned about when he arrived. "I met [Urdu-speaking] officials in the city government and they said, 'This is our city', implying that it was a city of Mohajirs. Then, I met some Sindhis who told me, 'You realise this is our city, right?' I also met some Baloch journalists who felt that it was their city and should be, by all means, a part of Balochistan. The Pashtun did not say it was their city, but they are [nevertheless] trying to claim a part of it."

This diversity, which most people feel is burdensome, is in Inskeep's opinion Karachi's greatest strength. "Karachi is a world on its own."

Aquila Ismail, the writer of Of Martyrs and Marigolds, chose to talk about the Karachi she saw as a young student of NED University, soon after she was "thrown out from that heart of the country - East Pakistan". "This city gave me an instant identity."

Being the only female engineering student in a class of 300 boys, she saw Karachi as a city with a liberal streak "that allowed women to take up non-traditional professions and succeed in them". The city changed tremendously during General Zia's time, when student unions were banned and weapons made their way on campus. "[That time] marked the entrance of extremists in the city, and they entered through universities."

Gayer, who has done extensive research on Karachi's violence, stressed studying its "enigma". "I've been coming to the city since the early 2000s when things seemed to be settling down. But, shamefully, they've become worse."

He defines the city's violence through the concept of ordered disorder - there is a sense of organisation in the way the killings take place. "Disorder is to a large extent ordered, which makes the violence manageable by society, by you people, who have altered their lives according to this violence."

The violence is not between enemies, but between close friends - the coalition partners. "They attack each other and kill each other and then, after a few days, they resume their politics," he said.

For Hasan, the problem lay in the failure of the governance system, and the politics of land and bhatta [extortion]. He shared some statistics on the city's contribution as compared to the rest of the province and concluded that, "If you have complete decentralisation as is being proposed, Karachi would swallow all of Sindh." He admitted that the fight over the local government act is a fight over these resources.

The authorities also have a strong anti-poor bias."You build flyovers but you don't care about pedestrians?" he asked.

As the session came to an end, Gayer left the audience smiling knowingly as he recalled, in Urdu, a quote from a Pathan hotel owner who had to shut down his business in Hawkes' Bay due to the violence.

"This ... [names political party] is our mother and is our father. If they give us milk, we drink it. But what do we do when they kick us out? Where do we go?"

Published in The Express Tribune, February 18th, 2013.