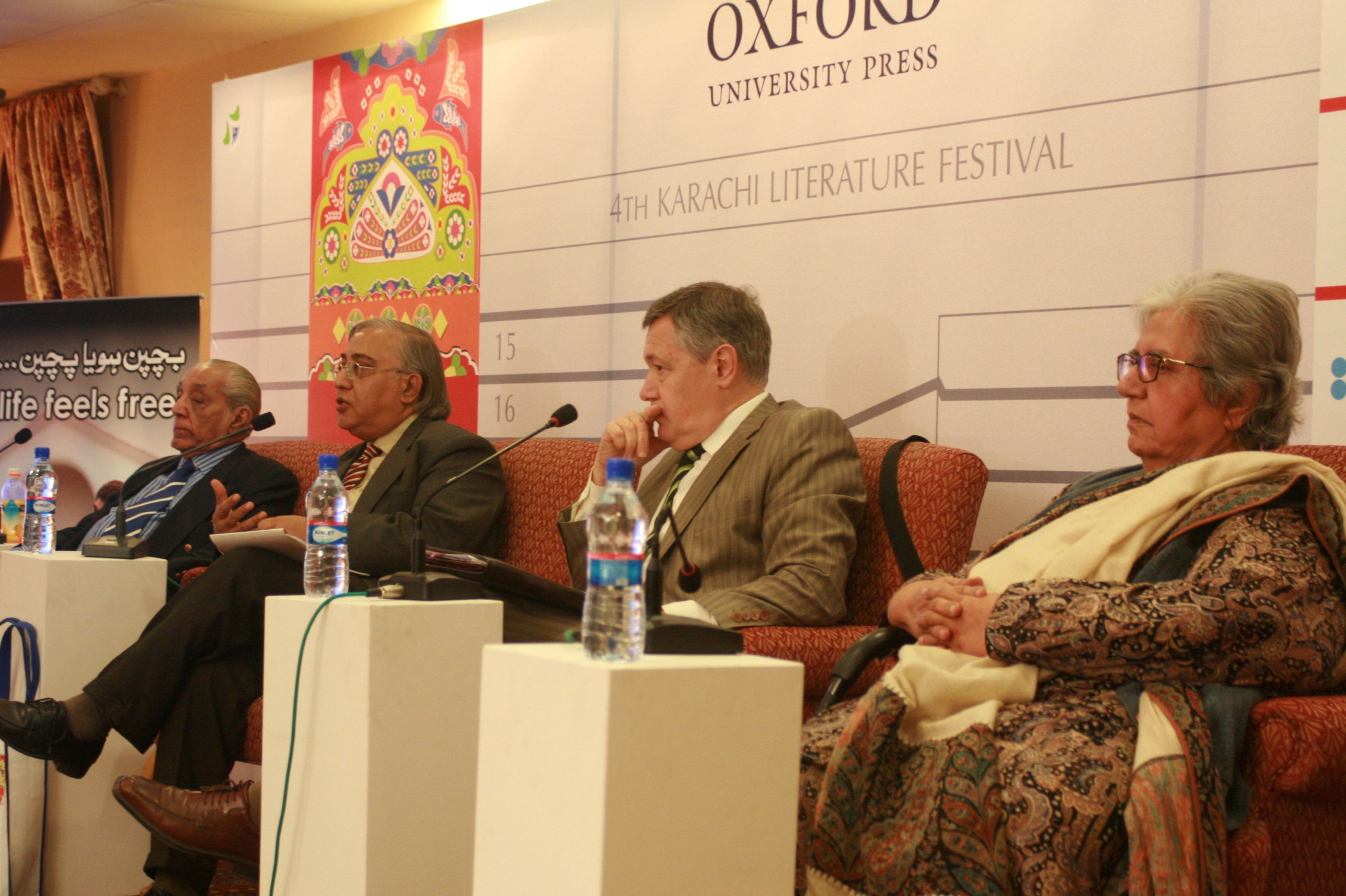 ---
KARACHI:



An emotive voice resonated in Room 007 of the Beach Luxury Hotel in Karachi on Saturday. "We were exploited by him!" said Indian constitutional expert and historian A G Noorani, when somebody mentioned Quaid-e-Azam Muhammad Ali Jinnah. "We don't know this because we've been taught not to question."




The session titled 'Does History Matter in Pakistan?' held on day two of the fourth Karachi Literature Festival left many audience members squirming in their seats. Others made no effort to hide their frowns.

"The problem is that we aren't ready to sacrifice the sacred cows," thundered an aging Noorani, obviously upset by what he termed as the "exploitation of Indian Muslims at the hands of Jinnah."

A lady from the audience stood up in a huff and called out, "This is Jinnah's Pakistan, sir. And that's the end of it." A gentleman chimed in and said, "Spare the Quaid, please!"

"It isn't just about the Quaid," responded Noorani. He counted Jawaharlal Nehru, a central figure in Indian politics of the 20th century, and the much revered Mohandas Gandhi, among such "sacred cows". Historian and academic Hamida Khuhro seemed to agree with Noorani, but with some caution. "Indeed, the Quaid himself was not a true democrat." More frowns, more squirming, some angry whispers.  "The problem is that facts are hidden. The problem is that the truth is caged. There are things nobody can question, and so nobody can tell you exactly what happened in the past," she said. "People get punished for asking certain questions. Hence, the closure of research is no surprise. Neither are unfounded beliefs."

Having taught history in universities all over Sindh, Khuhro said she is very dissatisfied by the research which trickles down to classrooms. "There are just too many taboos. Teaching suffers because you have to be chary of ideologies all the time. The bigger problem is that Pakistan's ideology is contested. It has not been defined properly, and yet it holds you prisoner."  The panel, which included Khuhro, Noorani, and Russian diplomat Andrey Demidov, agreed with what Khuhro pointed out as a "rather skewed" approach to Pakistan's history.

"The narrative of history which people buy is an example of 'official historiography' - a version of history written to favour those in power. In both India and Pakistan, the most popular version of history is of this kind," said Noorani.  Having been posted to Pakistan only recently on a diplomatic assignment, Demidov finds the current scholarship on the country's history lacking both detail and depth. "There is no shortage of books on the Partition. But what about Mohenjo Daro and Taxila?"

Being interested in the histories of various civilisations which left their mark on Pakistan's soil, the diplomat is forced to refer to foreign scholarship. There are hardly any good historians in Pakistan who have researched the "glorious intermingling of the Greek and South Asian cultures which happened in Taxila in around 5 BCE" or the "impact of the Mughals - a people of art, beauty and philosophy."

Published in The Express Tribune, February 17th, 2013.