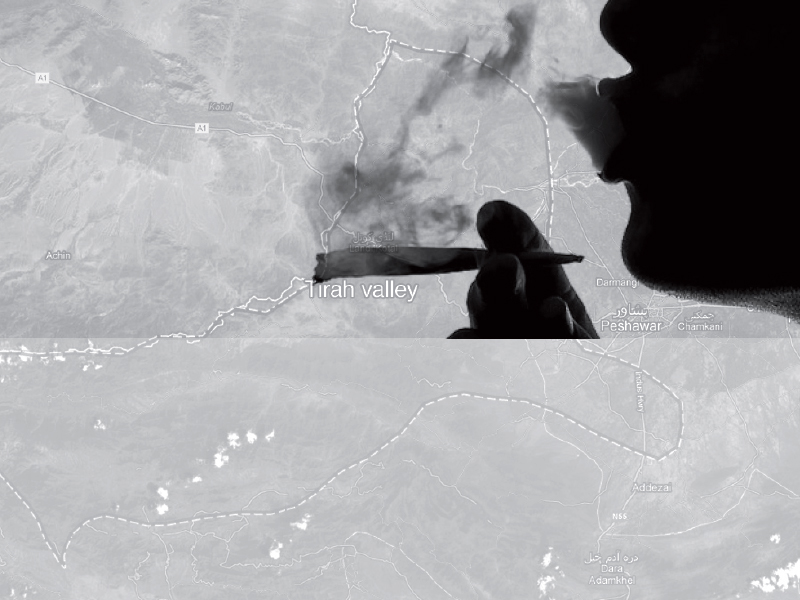 ---
JAMRUD:


Trekking through the secret, narrow passes in the mountains of Tirah, Landikotal and Jamrud tehsils of Khyber Agency, Haji Zubair Afridi and his aides smuggle goatskins in a pickup through Kacharo Kosa. Hidden underneath it are kilos of hashish – what Afridi refers to as his "black gold."

Their final destination is a clandestine warehouse in Jamrud Bazaar, where Zubair exchanges the animal skin for bundles of cash. He hands out Rs5,000 to the pickup driver and Rs3,000 to a teenage assistant. The rough terrain, he says, has nothing much to offer except for the unending clashes between rival groups. It is, however, rich in abundance as far as hashish is concerned.

The moderate climate and red soil make it a child's play for Tirah Maidan's local farmers to grow cannabis. The crop's stems are hung for two weeks to dry, after which a thin cloth is used to carefully thresh the plant to extract the dust power called "garda."

Converting garda into consumable hashish is a long process. It must be wrapped inside a fresh goatskin for as long as three months until it turns into a greenish black substance. One skin can contain around 10 kilogrammes of garda.

The skin provides the oil needed to solidify ingredients, said Nisar Afridi, a veteran hashish dealer. The longer the garda is kept inside the skin, the better it tastes. June, July and August are the best months to do this, but direct sunlight should be avoided so the final product is not dry, he added.




Hashish is supplied to Khyber-Pakhtunkhwa as well as Islamabad, Lahore and Karachi where consumers are willing to pay nearly 10 times more than those in Jamrud, Nisar said.

"We don't transport it. We just sell it in the agency," he said, adding that people buy it from them and smuggle it through the Karkhano check post on mules, horses and in vehicles.

Taj Muhammad, a real estate agent and builder in Hayatabad, while loading his cigarette with moist green hashish said that if the hashish is dry, it loses its effect and gives a headache. He has been addicted to it for 15 years and believes it is less harmful than tobacco.

There are no official statistics on total hashish production in the valley. A tribesman familiar with the matter, however, said that a banned outfit controls the price and is heavily invested in the business. In November and December last year, a kilogramme was being sold for Rs65,000 while in June, July and August, the supply increased, dropping the price down to Rs45,000. There are about 250 shops selling hashish in the Wazir Dandh area, Jamrud.

Wahid Gul Afridi, a khasadar force official, is known for recovering thousands of kilogrammes of hashish and has been especially posted at a checkpoint to do just this.

"My instincts can catch hashish dealers, even when the drugs are hidden in vehicles," he said, adding that he can sense traffickers by their "strange looks". Gul claims that his resolve has not been broken by the numerous bribes offered to him. "I do this work to get a promotion; I don't do it for bribes."

(Written by Muhammad Irfan)

Published in The Express Tribune, February 17th, 2013.

Correction: An earlier version of the article incorrectly mentioned that farmers grow poppy. The error has been rectified.