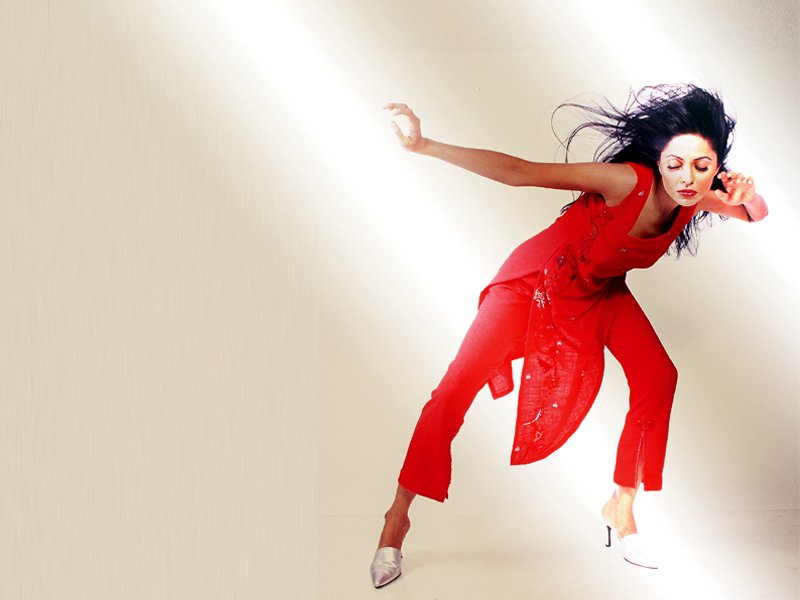 ---
KARACHI:



She may be 40, but the sex-appeal she exudes on the ramp can make fashion lovers weak in the knees. It's a part of who she is under the lights or in front of a lens and it's the prime reason why fashion week runway moments are forgettable without her.




Iconic model of yesterday and today, Iraj Manzoor says that the confident, energetic woman we see on the runway is who she really is — she does not pretend to be somebody else and the designers and the crowd love it. "I always thought I would be terrible on the ramp," she admits. "I now wonder why I ever thought that — I love doing the runway." While she quickly learned the tricks of the trade in the modeling world when she started at the age of 18, by the time she walked on the ramp for the second time in her life, she knew what she needed to do to set her apart. "The modeling world is artificial, darling. I knew that I have to be myself."

Getting an interview with this dusky diva is not easy. I first approached her in October last year, and after numerous phone calls and postponements, Iraj finally agreed for a chat.

She enters her drawing room so silently, that I am almost taken aback when I see that towering personality in such a different environment. She is wearing a casual red top and faded blue jeans, and her hair has those gorgeous blonde highlights we loved on Deepika in Cocktail. "I am an individual — I have never followed any trends," she says, quick to distinguish her look from the Bollywood actor's when I made the comparison.

Shy at the start, Iraj slowly warms up and is ready to begin. To my astonishment, she confesses that her career started out of sheer boredom. The diva says she was first featured in the Men's Club magazine in March 1991 as the Lady of the Month. It was a photo shoot that she says she did when she had "no passion for modeling".

"Asad Baig was the make-up artist [for this shoot] and it was photographer Rooha Ghaznavi's last shoot for Arshad Tarin's publication." Iraj vividly remembers how she felt. "I transcended into an artsy zone. I just danced to the beat of the music and went with the flow," she says, recalling the shoot done 22 years ago.

After the Men's Club shoot, Iraj was offered a commercial for Woolfe Biscuit, for which she earned Rs25,000 — a considerable pay cheque for those days. While director Atiya Khan loved Iraj's boldness, the model herself was not so pleased. "They made me ivory!" Iraj says, referring to her bronze complexion. "[I looked like] a pineapple cream cake and I looked ugly; it was demeaning and degrading. I believe if you want someone like that [fair-skinned], then take someone like that — not me!"




"It's the brain's power that will make you look sexy. Confidence doesn't come from skin colour — it comes from your brain. If someone thinks fair skin equals beauty, that's deadly — it's racism on another level."

Aspiring models can take a leaf out of Iraj's book; throughout our conversation, the diva had an air of natural confidence about her, and chatted away from her cosy corner on the couch. She also kept insisting I grab a handful of the channas she was merrily munching on.

Iraj talks about how the industry has changed from the time she started. "Logon ki mass production nahin thi," she says. "Only a few people were associated with the industry at the time and they had an amazing individual aura."

Iraj describes herself as "old-school and traditional." She says, "I love to read, rather than be on Facebook. How many people from the 50,000 that you have added will rescue you from trouble?"

She may be bold and confident, but you'll never find Iraj posing nude for a photo shoot. "That is mindless talent," says the diva. "It's easy to take off your clothes, but to keep them on instead of having a hunger for nakedness is a big deal."

After dominating the ramp for 20 years, Iraj now says she wants to retire and settle down. "I want to go back to painting; I want to be the king of one trade — not the jack of all."

At the end, she reveals that she has plans to marry. "If I don't [get married] then I will adopt," she says, expressing a desire to start a family.

Published in The Express Tribune, February 17th, 2013.

Like Life & Style on Facebook for the latest in fashion, gossip and entertainment.