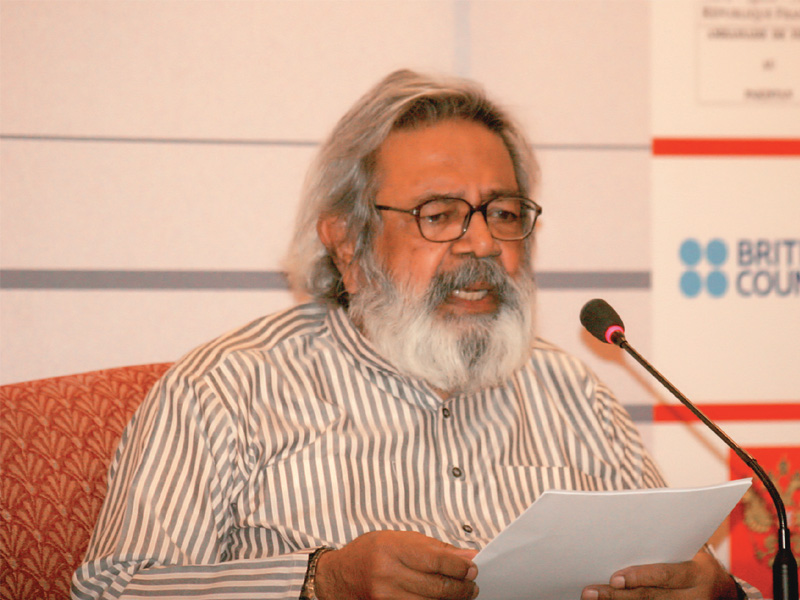 ---
KARACHI:



Knowing fully well the consequences of speaking against religion, Sindhi fiction writer Amar Jaleel still chose to speak his mind. "Clerics do not care about the norms of civil society," he said. "They have ruled over Pakistanis since the first day of the country's creation."




"The government talks to the Taliban and they talk to a clerics," he said referring to Minhajul Quran International's chief Tahirul Qadri. He pointed out that the government went to talk to him even though he breached the Constitution by declaring that all assemblies were dissolved. "It was a case of treason."

On day one of the fourth Karachi Literature Festival, Jaleel read out excerpts from his short story on extremism in a session dedicated to his writings moderated by Shah Muhammad Pirzada.

Jaleel admitted his first love is cricket but he is more widely known as the prince of Sindhi short stories. Despite the thundering clouds, scores of his fans attended the session. "I wish the programme had no time limit. I thought it was just starting but the organisers announced that the time was finished," said a disappointed fan, Aijaz Ahmed.

Jaleel went on to talk about Sufism. "A Sufi is a rebel of a particular religion and in a particular society," he explained, adding that one can find a Sufi in Islam, Hinduism and even in Christianity. "Even Shah Abdul Latif Bhittai was not a complete Sufi. He was partially Sufi. A real and genuine Sufi is like the Buddah."

As the discussion became more philosophical, Jaleel said that, "The creative is only female, but we have made creative a masculine." At this a female member of the audience, Bint-e-Maryam, insisted she was still creative. "I am universalist. I have the courage to produce. I am also a Qalandar."

Moving on to more practical grounds, Jaleel doubted that literature can bring a solid change in the Pakistani society. Why? It's because the government has exaggerated literacy rates. "It is not more than six percent."

In a country of 180 million people, only one million newspapers are published daily," he claimed. "Do you think the remaining population can even read billboards?" Jaleel finds no hope in the media either. "When television appeared before the masses, this source of educating the nation was also exploited. It is being misused."

On the importance of Urdu language, Jaleel said that Urdu is just an official language. "Even the founder of Pakistan said that Urdu was just an official language," he quoted. "Other languages are not regional languages but Pakistani languages. We have to change this attitude and have to respect all languages."

Published in The Express Tribune, February 16th, 2013.
COMMENTS (3)
Comments are moderated and generally will be posted if they are on-topic and not abusive.
For more information, please see our Comments FAQ