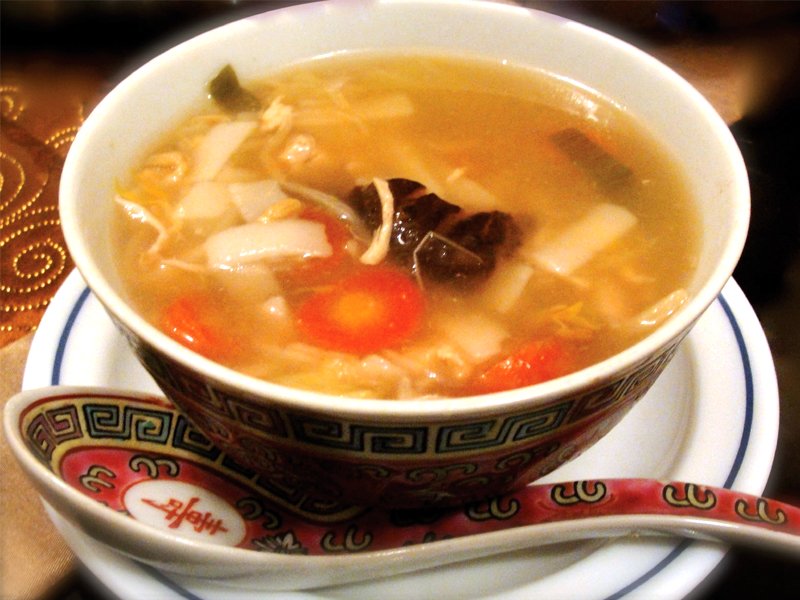 ---
Clear soups are both mouthwateringly delicious and extremely healthy. They are easy to cook and you can play with the ingredients to create an array of flavours. A clear soup can be a great appetiser for a dinner, especially when you don't want your guests to fill up on just soup and enjoy the other dishes as well.

Note: Shiitake mushrooms are the best mushrooms for soups and can usually be bought in dried form.

Ingredients

For the broth

Chicken 1/2 kg

A whole carrot

Half a cabbage

A whole spring onion

Whole black pepper 7-8

Salt 1-2 tsp

Garlic cloves 2-3

Water 4 glasses

Other vegetables

Bean sprouts ½ can

Corn ½ can

Shiitake mushroom ½ cup

Flat rice noodles or normal flat egg noodles ¼ pack

Method

•  Soak the mushrooms in water till soft.

•  In a deep pan, simmer all the broth ingredients for 30 to 45 minutes.

•  Once the water becomes cloudy and the liquid has reduced to half the initial quantity, sieve and separate the broth from the rest of the ingredients.

•  Pour the broth into the deep pan again.

•  Add back the cabbage leaves and small cubes of shredded chicken to the broth. You can also fry the chicken pieces in a non-stick pan without oil before adding them to the broth.

•  Dice half the carrot used in cooking the broth and add. (Optional)

•  Add bean sprouts, Shiitake mushrooms and corn and let the broth simmer on low heat till all the flavours have fused together.

•  Mix cooked noodles into the soup.

•  Garnish with sliced spring onions and serve. 

Preparation time: 15 minute(s)

Cooking time: 1 hour

Serves 4 people

Madiha Hamid is a digital media professional. She loves the food traditions unique to families. She is running a food blog for Pakistani and regional cuisines called cheflingtales.com

Published in The Express Tribune, Ms T, February 17th, 2013.

Like MsT on Facebook for your dose of girl talk.