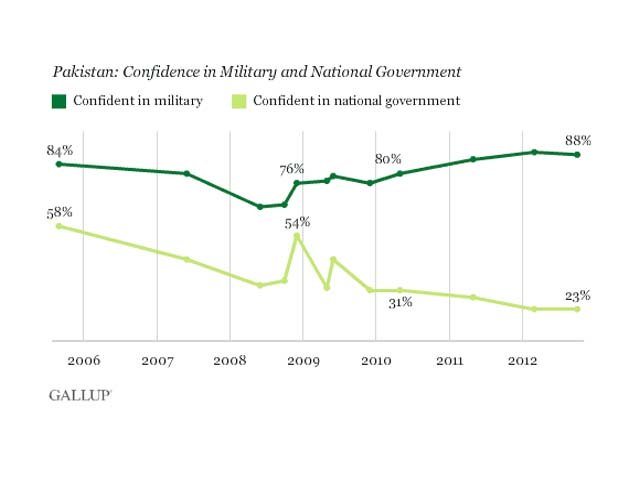 ---
According to a Gallup survey released on Thursday, 77% of Pakistanis surveyed have no confidence in the the government of Prime Minister Raja Pervaiz Ashraf and as many as 88% still trust the military.

The report that was prepared between September and October of 2012, also noted that the support of the Obama administration had gone down to 92% from 73% in May 2011.

The report noted that Obama's approval ratings began to slip after the infamous US raid on the Abbottabad hideout of Osama Bin Laden and the increased drone attacks in the tribal areas, since that raid.

The report noted that many Pakistanis considered these two American policy initiatives as a violation of Pakistani national sovereignty.

The report further mentioned that due to increasing tensions between Pakistan and the US, 55% of the surveyed Pakistanis said that they believed that interactions between Islam, Muslims and the western world was a major threat to their religion and the country.

The report also clarifies that voting trends tended to be much similar between older and younger Pakistanis.  A majority of 53% of the surveyed older Pakistanis, said that they disapproved of the growing interactions between Islam and the Western world and 57% of the young Pakistanis surveyed expressed the same opinion.

However, 39% of the overall surveyed believed that better interactions would be beneficial.




"Nearly half of the Pakistani population (49%) is between the ages of 15 and 29. The largely anti-Western sentiment among these young Pakistanis suggests that, even as this sizable group ages and begins to have a larger role in Pakistani governance, relations between the US and Pakistan may continue to be fraught with challenges," the report said.
COMMENTS (10)
Comments are moderated and generally will be posted if they are on-topic and not abusive.
For more information, please see our Comments FAQ