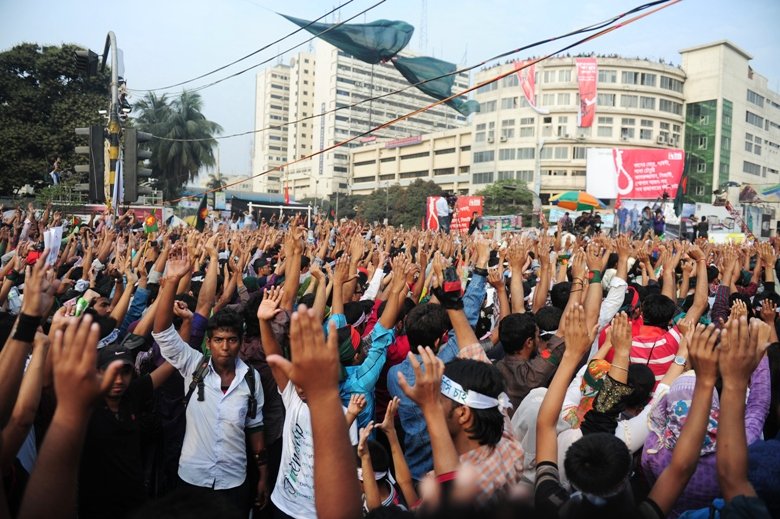 ---
DHAKA: When Ranajit Rinku heard the "Butcher of Mirpur" had been jailed for life for mass murder during Bangladesh's 1971 war, he couldn't believe a man with so much blood on his hands could escape the gallows.

Like most Bangladeshis, Rinku had been taught that the nine-month conflict was one of the deadliest in history, with an estimated three million people killed.

After Bangladesh's domestic war crimes tribunal ruled on February 5 that Abdul Quader Molla, a top official in the Jamaat-e-Islami party, was responsible for more than 350 killings in a Dhaka suburb, opposition parties decried the verdict as a travesty of justice designed to settle scores.

But Rinku focused his outrage on what he saw as the leniency of the sentence - no matter that the 31-year-old was not even born when the war broke out in March, 1971.

So he decided to head to an intersection in downtown Dhaka where hundreds of thousands of his fellow Bangladeshis have been staging round-the-clock protests with the single demand: that Molla and his fellow defendants be hanged.

"I have slept only 20 hours in the last eight days. We won't stop protesting unless all the collaborators are hanged," Rinku said.

The parents of Rinku, a member of Bangladesh's minority Hindu community, had to flee their village in northern Rangpur district in 1971 after it was attacked.

"So many people died at the hands of these killers yet there was no justice for the last 42 years. Our leaders have compromised with these killers and rehabilitated them. It's our last chance to wipe out this shame," he said.

Similar reactions have been seen throughout Bangladesh after the court started delivering their verdicts on 12 alleged war criminals last month.

The protests in Dhaka have drawn poets, academics, singers, journalists, war veterans and even members of the national cricket team.

The demonstrators have renamed Shahbag intersection New Generation Roundabout, comparing it to Tahrir Square, the cradle of Egypt's 2011 revolution.

The legacy of the nine-month war has defined much of Bangladesh's post-independence politics but successive governments including the country's founder Sheikh Mujibur Rahman failed to bring the war criminals to book.

Sheikh Mujib, the father of current premier Sheikh Hasina, briefly outlawed Jamaat in the 1970s.

But after his assassination in 1975, the ban was lifted by a military regime led by the husband of Hasina's main rival Khaleda Zia of the Bangladesh National Party (BNP).

The scale of the carnage is the subject of huge dispute.

The government says three million were killed but independent estimates put the figure much lower, between 300,000 and 500,000.

Many Bangladeshis believe the current Jamaat leadership was behind the militias responsible for the killings of professors, doctors and journalists.

Both Jamaat and BNP say the charges are bogus while international rights groups have found gaping holes in the war crimes laws and the proceedings.

The International Crimes Tribunal, a domestic set-up with no international oversight, has also been dogged by controversy ever since its creation in 2010.

Leaked internet calls point to collusion between a presiding judge, the prosecution and government. A key defence witness was allegedly abducted by plainclothed police outside the court.

But protesters dismiss such criticism.

"Young people have had enough of these conspiracies," said Imran Sarker, a protest organiser. "They have finally taken control to oversee the end of these collaborators."

Critics regard the demonstrations as having been orchestrated by the government to mask its shortcomings, including a series of high-profile graft scandals, ahead of elections due next January.

But Shahdeen Malik, a Dhaka-based commentator, said it was a mistake to underestimate the pent-up anger of a younger generation.

"I don't think the government has a role here. There are people of every hue and colour in the protests, including even BNP supporters," he told AFP.

"They have all become united under one issue: stern punishment for war criminals," he added, comparing the protests to recent mass protests in India after a deadly gang-rape.
COMMENTS (9)
Comments are moderated and generally will be posted if they are on-topic and not abusive.
For more information, please see our Comments FAQ