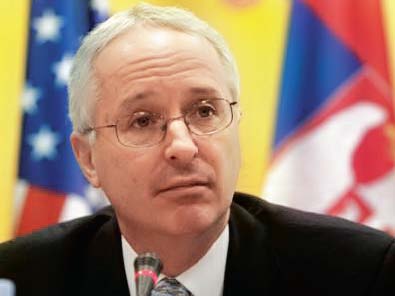 ---
WASHINGTON:



Former US ambassador to Pakistan Cameron Munter said on Wednesday that Pakistan had to pay a terrible price for not being informed by their American allies of the impending Bin Laden raid.




"People like General Kayani were made to pay a price," said Munter, while speaking at an event at the Atlantic Council in Washington. However, he added that he would have made the same decision again to not inform Pakistan of the raid to ensure it remained secret.

Munter said that while the US has soul searching to do about its counterterrorism policies, Pakistanis in the press, power and military need to stop blaming the US for its perceived failure to fix Pakistan.

"When we killed those 24 soldiers, we obliterated them," said Munter, referring to the kind of arms used in the Salala airstrike, and referred to the incident as a terrible mistake. "The fact that we were unable to say we were sorry until July literally cost us billions of dollars," said the former ambassador, saying it showed callousness.

In his remarks, the former ambassador said he hoped the three-on-three meetings, which began in late 2011, still continued, which had representatives from the military, intelligence and civilian side for both countries talking about counter-terrorism policies.

Munter also said the US cannot pursue assistance programs in Pakistan unless there is leadership in the country. "Adding megawatts to the grid is not the solution, reform in the energy sector is the solution through which these megawatts can be used," he said.

On the subject of the Inter-Services Intelligence, Munter said it was important to remember that Raymond Davis would not have been free had it not been for the ISI, saying that while the ISI was not perfect, it was not the demon it was made out to be at times.




On the subject of drones, Munter said there needs to be a clear understanding of what drones do, and said that he was hopeful that if John Brennan was confirmed as the next CIA chief, he would be able to inform the public on the subject. "Talking about it publicly, in a mature way, and talking about it with Pakistanis in a comprehensive way is going to be helpful."

In response to a question, Munter said that while he was not confident that Canadian imams or cricketers could resolve all the issues of reforms, but he said he respected Imran Khan for asking questions that others don't. Munter said that he was skeptical about institutions' ability to do anything other than perfect their limited access. He added that allegations about a deepening feudal system in Pakistan had some truth to them.

On the subject of Pakistan's nuclear program, Munter said that while they were a huge concern, the US' engagement with Pakistan in this area was necessary.

Asked about his biggest disappointment during his tenure, Munter said he felt the people of both countries had ties, and were similar in many ways, but it was battered by policies – failure on Pakistan's part to enact reforms, and the response of the US to Pakistan's sensitivities on counterterrorism policies. However, he said he felt there was a basis for a good US-Pakistan relationship in the long-term, but he was worried about getting through the short-term.

Munter stepped down from his post as US ambassador to Pakistan in 2012. He is currently a professor at Columbia Law School and will be teaching at Pomona University in California in the summer.

Published in The Express Tribune, February 14th, 2013.