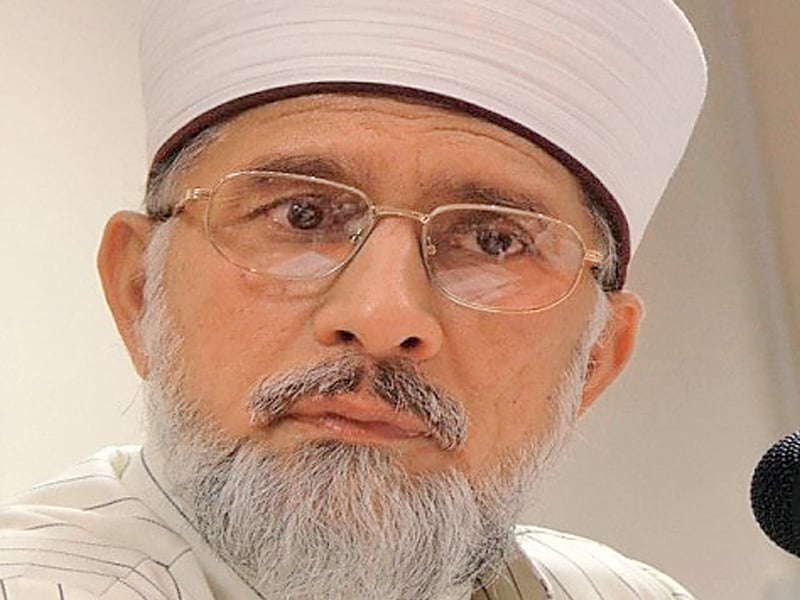 ---
ISLAMABAD:



The Queen of England has perhaps not figured as prominently in the Supreme Court as she did on Monday when famous cleric Dr Tahirul Qadri's ability to file a petition in Pakistan was questioned as a Canadian national.




On Monday, the Minhajul Quran International chief came under judicial scrutiny himself when he appeared before the court to argue, through a petition, that the Election Commission of Pakistan (ECP) should be reconstituted.

Questioning his status as a Canadian, the Supreme Court asked Qadri to explain the legitimacy of his petition and directed him to submit the documents on his dual nationality and his claims of being a stakeholder in the country's democratic system after having sworn allegiance to another country.

Qadri had argued in his petition that the mandatory hearing before the chief election commissioner and other members of the ECP were appointed was not held and thus the commission should be reconstituted.

Chief Justice Iftikhar Muhammad Chaudhry, heading a three-judge bench, questioned Qadri about his Canadian nationality and asked: how could a person file a petition and criticise functions of Parliament if he could not enter it himself because of his dual nationality?

The court cited Interior Minister Rehman Malik's case as precedent in which dual nationality holders were declared ineligible from entering Parliament. However, Qadri said that his case was different.

The chief justice also asked Qadri to read out his Canadian citizenship oath, but Qadri said that he had not brought a copy to the court and needed some time, insisting that Pakistani law did allow dual nationals to file petitions.




In response, the chief justice himself read out the oath and said if he (the chief justice) had sworn allegiance to Queen Elizabeth, he would not sit in the Supreme Court, as he would have no moral ground to question the country's institutions after swearing allegiance to another country.

At the outset of the hearing, Qadri, who got the opportunity to address the court after waiting for hours, told the judges that since it was his first appearance before "this august" court, he wanted to express his feelings about "your great struggle for independence."

Interrupting him immediately, the chief justice stopped him from glorifying the court and directed him to come straight to his case and convince the bench why it should hear Qadri's petition.

Without allowing Qadri to proceed with his argument on the maintainability of the petition against the ECP, the court turned its attention on Qadri's 'locus standi' — a Latin term that means legal standing before the court.

Qadri, who recently held a long march and sit-in along with thousands of followers outside the Parliament House demanding the overhaul of the democratic system, replied simply: "I am a Pakistani citizen."

The chief justice asked, "Are you only a Pakistani citizen?"

Qadri replied, "Canadian too."

"But Pakistan's laws do not bar me from retaining citizenship in Canada, as currently a large number of Pakistanis are dual nationality holders," Qadri said, adding, "I approached the court as a voter not as a parliamentarian."

When Justice Chaudhry asked Qadri whether he had pledged allegiance to the Queen, Qadri refrained from replying to the question.

"How you can address us now?" asked an irked chief justice.

"You should ask this question from Pakistan's law," Qadir replied.

The chief justice said, "We are asking this from the attorney general."

However, Attorney General Irfan Qadir did not give a clear response and maintained that dual nationals could not file petitions in the Supreme Court unless the court revisits one of its judgments on this subject (judgment in the PCO judges' case). Qadri argued that according to Sub-Section 3 of Article 14, Pakistani citizens were allowed to hold nationality of other countries, including the UK and its colonies and Commonwealth countries.

"But there is a notification which names the countries whose citizenship can be taken up by Pakistani citizens," he said.

Qadri will present this notification and other supporting documents in court today.

Published in The Express Tribune, February 12th, 2013.