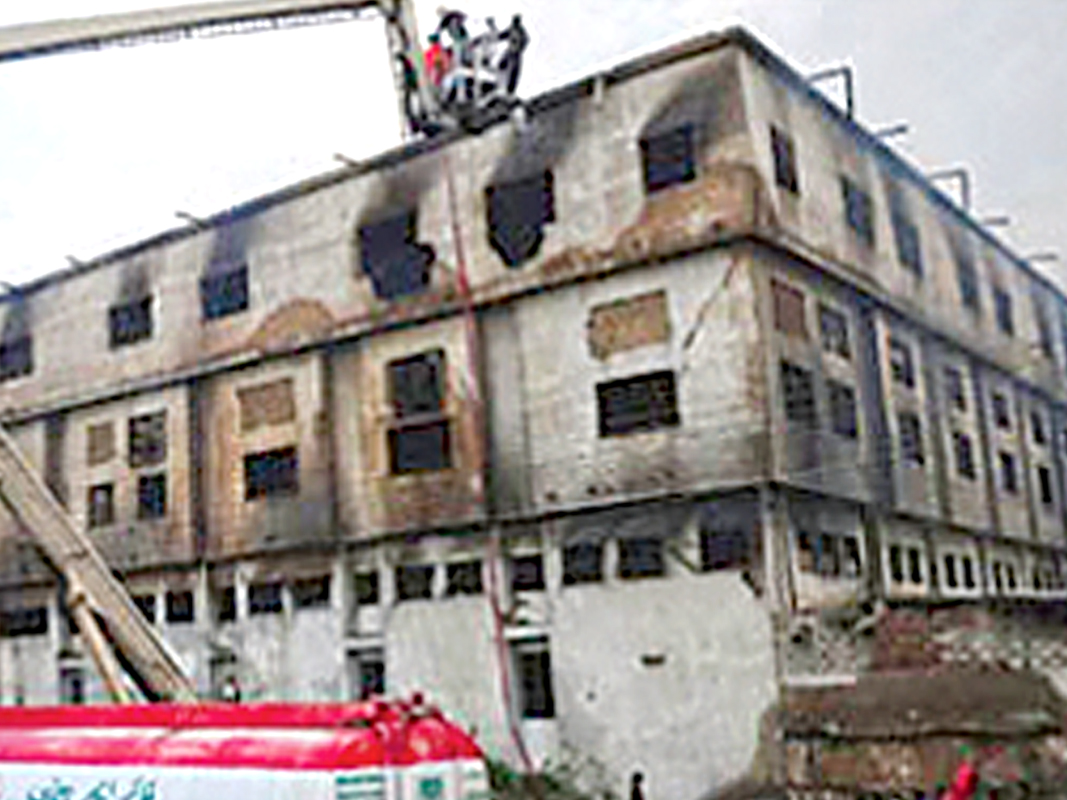 ---
KARACHI:



On Monday afternoon at a godown in Baldia, Nazia, who lost her husband in the Ali Enterprises inferno, was handed a white envelope of Rs 5,000. The mother of four was told to come back again on the 16th of this month and collect her ration she 'deserved'. In return, she was told to keep her mouth shut and not to speak ill against the factory owners.




Such pressure tactics being carried by the officials of the gutted factory, Ali Enterprises is likely to increase after the bail of all the men accused in the Baldia fire incident, claim activists.

Pakistan Institute of Labour Education and Research (Piler) executive director Karamat Ali told The Express Tribune that the owners and managers of Ali Enterprises, the factory in which hundreds of people lost their lives, have been intimidating the witnesses and the workers for a while. The purpose of these threats is to pressurise people into agreeing to drop murder charges against the owners.

"Even from inside the jail, the Bhaila brothers had been giving directions to their men to threaten the people to move back from the case," said Ali. "Now that they are out of prison, we expect an increase in their dirty activities."




Meanwhile, the lawyer representing the owners, Amir Raza Naqvi, insisted that the company has been providing groceries and medicines to the families since day one. "We understand that these families are poor so we have been helping them out on a humanitarian basis," he told The Express Tribune. Denying that these were pressure tactics, Naqvi explained that they took it upon themselves to help these poor because the government had failed to do so.

Last September, more than 250 workers had died in a massive inferno that engulfed a factory in Baldia. Termed as the country's worst fire disaster, social activists had joined hands with the affected families to help them raise their voice over the missing bodies and the delayed compensation payments.

However, activists now see a change in heart in some of the affected families as the owners are using pressure tactics. While some families have been threatened on the phone and paid visits by factory managers, others have been presented groceries and offered money to keep their mouths shut.

"The poor and weak status of the affected families is being abused by the powerful and influential owners. They are taking advantage of their situation and forcing people to dislodge themselves from the case," said trade unionist Nasir Mansoor.

He said that the managers were operating from a godown near the burned factory. "The people are being called to their office and told to sign documents. God knows what those documents are." He was worried that these illiterate people may be fooled into signing pardons.

Shahida, who lost her husband Akmal, said that within the past one month, she has received Rs10,000 and a month's ration from the factory authorities. Even then, she was saddened by the news of the owners' bails. "I am sad because it is the owners' fault that my husband died, but if the seth [owner] bears the responsibility of my children, I will forgive them."

Meanwhile, there are some families who claim they are not interested in what happens to the owners as they are still caught up in identifying the missing bodies. Azmat, a resident of Baldia, who lost his four daughters and a son, said that they are surviving on debts. "Poor people can't do anything. Even if the owners are set free, we can't do anything about it."

Published in The Express Tribune, February 12th, 2013.