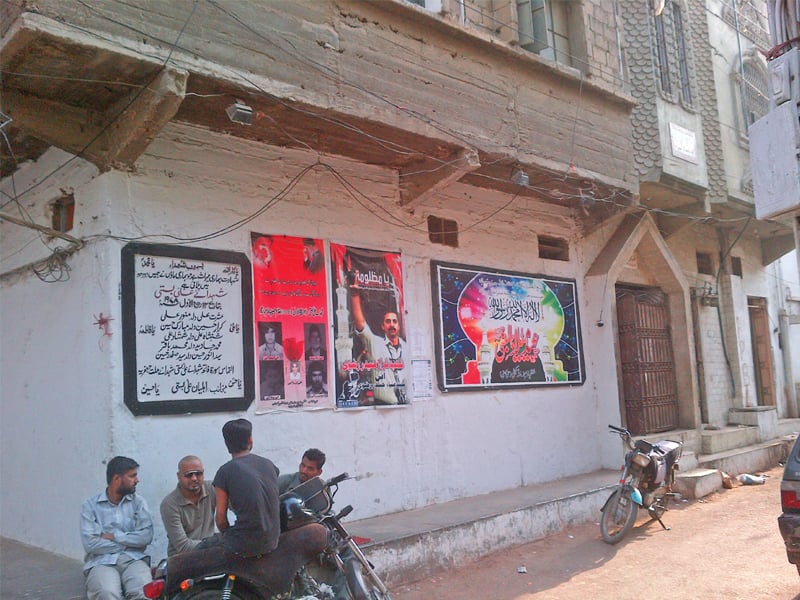 ---


The Old Golimaar area of Karachi is firmly divided between 'us' and 'them' — black flags flutter outside Shia houses, and dark green ones outside those of Sunnis. It is here, in these congested lanes, that the first five Shia men lost their lives in a sectarian conflict which would mark the city's fate for decades.




On February 22, 1978, newspapers carried screaming headlines: Karachi had witnessed the first fatalities resulting from a sectarian confrontation. The stones hurled at a chup taazia procession during Rabiul Awwal that year served as a final spark to the mounting tension between Sunnis and Shias of Ali Basti in Old Golimaar area. Anger, derogatory slogans and many injuries are part of the story. Pictures of the five Shia men killed on that day -- Javed, Anwar, Shahenshah, Karar, and Ishrat – adorn the exterior walls of the Hussaini Imambargah located nearby.




But locals living in the area claim that the first conflict was more politically motivated. "One of the first Pakistan Peoples Party (PPP)'s offices had opened in Golimar and many Shias had joined the party. It was General Ziaul Haq's era, and he tried his best to trample the PPP by giving the rioters free hand for creating chaos," said Syed Shakir Hussain, one of the area's residents.

The cycle of hatred continues. Sectarian killings are now the norm in this side of the city. Heading the Jafferia Imambargah in the same area, Maulana Jahangeer's voice breaks as he tells about his brother: "My brother was killed in 2010. He had no enmity. Why was his life taken away?"

Last year, Jahangeer organised a unity forum in the locality, where Shia and Sunni clerics stood together on a single platform, called for harmony. "The nine scholars who attended the conference have been killed. I have nothing more to tell you."

Javed's story

In 1978, houses in Ali Basti were single storied, and mostly illuminated by lanterns only. Roshan and her son Javed occupied one of such abodes. The young man worked part-time at a carpet shop.

He came home to eat lunch from work on the fateful day, little knowing he was about to have the last meal of his life. "I made fresh chappatis, and cooked some vegetables," said Roshan, fighting tears in vain. "Hearing sounds of riots, I pleaded him to flee, but he did not listen."

Rioters entered the area and soon a bullet pierced through Javed's head. "I was devastated. I roamed the streets for three years, hoping to get my son back. Since I know the pain of a mother losing a child, I now attend funerals to console other mothers."

Roshan did not relocate from the area. "It is people who come from other areas and create disturbances.  Sunnis and Shias live in peace," she said, referring to the intolerant outlets, who frequently fuel conflict between Shias and Sunnis in the area.

Ishrat's story

In February 1978, Ishrat was ready to make a visit to Karbala. All his luggage was packed.

Ishrat's small, grey-stoned house had to be built from scratch after it was burnt down on February 22, 1978. His daughter, the elderly Sualiha, who still occupies it, says that the rioters who set her house to fire took away her jewellery, and killed her father Ishrat.

"We escaped with difficulty. My family and I lived in a camp at Ancholi Imambargah for 15 days before coming back.

Her father, who was an employee at the post office, was pushing men into the Hussaini Imambargah as riots broke out. It was then that he was shot.

"He died when he was helping others to be safe from the violence. His luggage for Karbala was also taken away by the attackers."

Shahenshah's story

Death can cast a shadow of gloom for decades upon otherwise happy lives. Shahenshah was shot dead during the 1978 incident. The young man had applied for a job at the Jinnah hospital and his appointment letter came a day later after his death. "Our family broke down after his death. My father went mad, and my brother's death made things worse for my mother who was a TB patient. They both died soon," told Shahensha's brother.

Anwar's story

Haider, whose 12-year-old brother Anwar was also a victim, was amongst those who were taking casualties to the hospital. "It was a dreadful day. Today when our men are being killed brutally and Shia genocide is taking place, it reminds us of the pain and suffering we went through," said Haider.

Published in The Express Tribune, February 11th, 2013.
COMMENTS (15)
Comments are moderated and generally will be posted if they are on-topic and not abusive.
For more information, please see our Comments FAQ