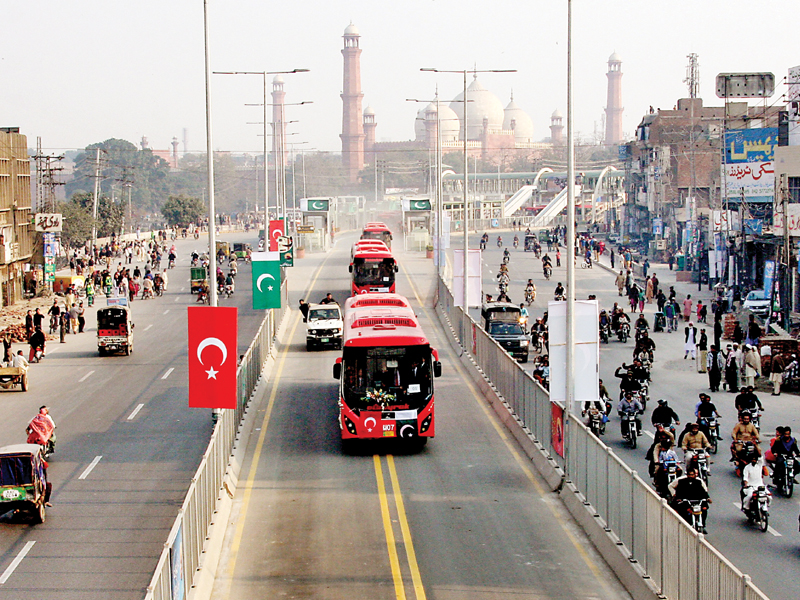 ---
LAHORE:



Lahore Development Authority Director General Ahad Khan Cheema said on Sunday Lahore had joined the Metro Bus Club that included 147 cities around the world. 




He was speaking shortly after the Metro Bus Service (MBS) was inaugurated by Chief Minister Shahbaz Sharif in a ceremony at the Nishter Colony Depot. The ceremony was attended by Turkey's Deputy Prime Minister Bekir Bozdag, former prime minister Nawaz Sharif, Opposition leader MNA Chaudary Nisar, Punjab Assembly Speaker Rana Muhammad Iqbal, MNA Hamza Shahbaz, Mariam Nawaz, Istanbul's Deputy Mayor Ahmad and about 50 diplomats from various countries, including ambassadors from 20 nations besides parliamentarians and leaders of political parties

Bozdag in his address at the inaugural ceremony said he hoped the completion of the MBS project would bring investors from both countries closer. The two countries had a history of cordial relations and had extended support to each other in times of need, he added. Bozdag said their friendship should be passed on to the next generation and be maintained.




He said the Punjab government's efforts in completing the project in 11 months were phenomenal and unmatched. He said the Turkish bus service did not have elevated tracks and was built entirely at ground level.

Bozdag was accompanied by several Turkish members of parliament. He conveyed Premier Abdullah Gul's wishes and said he looked forward to improved ties between the two countries.

Construction of the MBS track had begun in February last year. As many as nine stations out of 27 are yet to be completed. Most of the 109 escalators, too, were not functional during the inaugural run.

Cheema said around 112,000 people can benefit from the service everyday. Around 45 buses with a capacity of 150 passengers each would travel between Gajju Matta and Shahdara in 55 minutes, stopping at all junctions.

The service would be free of cost for a month, however fare ranging from Rs30-40 would be charged later. The bus took 88 minutes to scale the entire track during its maiden run.

Cheema said 1,049 piles, 207 tansims, 664 platform doors and 306 piers had been installed for the project.

He said the 8.3km elevated track would allow speeds up to 60km per hour. Around 25 million people use similar buses around the world, he added. Cheema said a similar project in Turkey had taken 42 months to build but Lahore had finished its project in 11 months.

Chief Minister Sharif thanked the guests at the ceremony and announced a gratuity of Rs30 million for the construction workers. He also promised a lunch with them and awards for the best contractors and labourers.

He said the project would cut across class barriers and serve all segments of the society. Sharif said the project had been completed in a transparent fashion and apologised to everyone who had been inconvenienced during the construction.

Published in The Express Tribune, February 11th, 2013.
COMMENTS (3)
Comments are moderated and generally will be posted if they are on-topic and not abusive.
For more information, please see our Comments FAQ