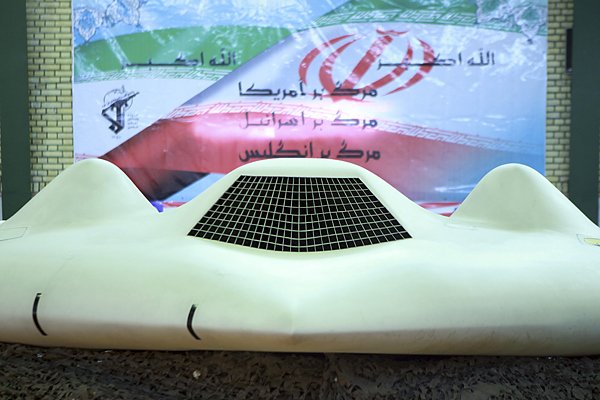 ---
TEHRAN: Iranian state television aired video footage on Thursday that it says was extracted from a CIA drone it captured inside it's airspace in December 2011, which it claimed showed the aircraft land at bases in Afghanistan and Pakistan.

In a documentary broadcast Wednesday, the elite Revolutionary Guards released the video, the first time it has been seen since the RQ-170 Sentinel was captured after it entered Iranian airspace from its eastern border with Afghanistan.

The Guards aerospace division, which said it seized the unmanned aircraft, it said the footage showed images of the drone landing at an airbase in Kandahar in Afghanistan, as well as at a base in Pakistan.

Iran has previously claimed that it brought down the drone electronically by "spoofing" its GPS guidance system. US officials have said that the Sentinel suffered a malfunction.

"By decoding data extracted from the drone, we found out that the aircraft had conducted many flights in Iran's neighbouring countries," Brigadier General Amir Ali Hajizadeh, head of the Guards' aerospace division, said in the broadcast.

The American military and the Central Intelligence Agency regularly use drones to launch missile strikes in Afghanistan and in Pakistan's tribal belt, but do not generally confirm such raids.

Shortly after Iran announced the drone's capture, the NATO-led military force in Afghanistan said the aircraft had been on a mission over western Afghanistan.

US media had reported fears in the United States that Iran could access and make use of the highly advanced technology used in the drone.

But a US official later cast doubts that "the Iranians have the expertise" to exploit the technology found in the aircraft.

The RQ-170 Sentinel is a high-altitude stealth reconnaissance drone made by Lockheed Martin. Its existence was exposed in 2009 by specialised reviews and later confirmed by the US Air Force in 2010.

Iran said in January that it was in possession of two more US-made RQ-11 reconnaissance drones it shot down over the previous 15 months, in addition to a ScanEagle drone and the RQ-170.