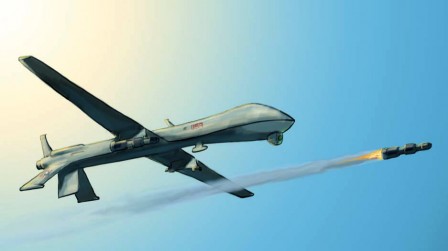 ---
MIRAMSHAH/ HANGU:



The highly controversial American drone programme conducted its first attack of February 2013 in Pakistan, targeting militants in North Waziristan Agency.




Three militants, including a foreign fighter, were killed when an unmanned aerial vehicle (UAV) fired missiles on a militant compound in Ghulam Khan tehsil in North Waziristan on Wednesday.

An official of the security forces said that around 12:30 pm, a drone fired two missiles on a Tehreek-e-Taliban (TTP) compound in the mountains of Martal in Bangidar near the Pakistan-Afghan border, around 15 kilometres from Miramshah, headquarters of the agency, killing the three TTP militants.

The official added that residents from the surrounding areas immediately rushed to the site to begin a rescue operation and pulled out the bodies from the debris.




The first US drone strike of February 2013 follows six attacks conducted in January, in which 42 militants were killed and seven were injured in both North and South Waziristan.

Its most high-profile victim last month was Taliban warlord Maulvi Nazir Wazir, also known as Mullah Nazir, a powerful elder of the Wazir tribe. Nazir was killed when a US drone fired two missiles at a double-cabin pick-up vehicle in Sara Kanda of Birmal tehsil in Wana subdivision, South Waziristan on January 2.

Fighter jets kill 8 militants in Orakzai Agency

Pakistani fighter jets launched a blitz on militant hideouts in Orakzai Agency of the Federally Administered Tribal Areas on Wednesday, killing eight militants, an official of the security forces said.

The jets bombed TTP hideouts, destroying three in Arghanjo and Lando Qamar in the troubled Mamozai, which borders Tirah Valley in Khyber Agency. The bombardment killed eight militants.

It was the fifth such attack on militants this year. According to security forces, the previous four air raids have killed around 38 militants, while 11 hideouts were destroyed. However, the exact figures are difficult to verify.

Strategic importance of Orakzai Agency

Orakzai Agency is strategically an important area. Covering an area of 700 square miles, the agency shares its borders with Kurram and Khyber agencies, Hangu district and Kohat, Darra Adamkhel.

It is the only agency among seven that does not share a border with Afghanistan. Its estimated population is 450,000. Since 2010, most of the agency was believed to be a safe haven for local and foreign militants, but security forces launched an operation to eliminate them. The operation is still continuing.

Around 97% of the agency has been reclaimed from militants.

Published in The Express Tribune, February 7th, 2013.