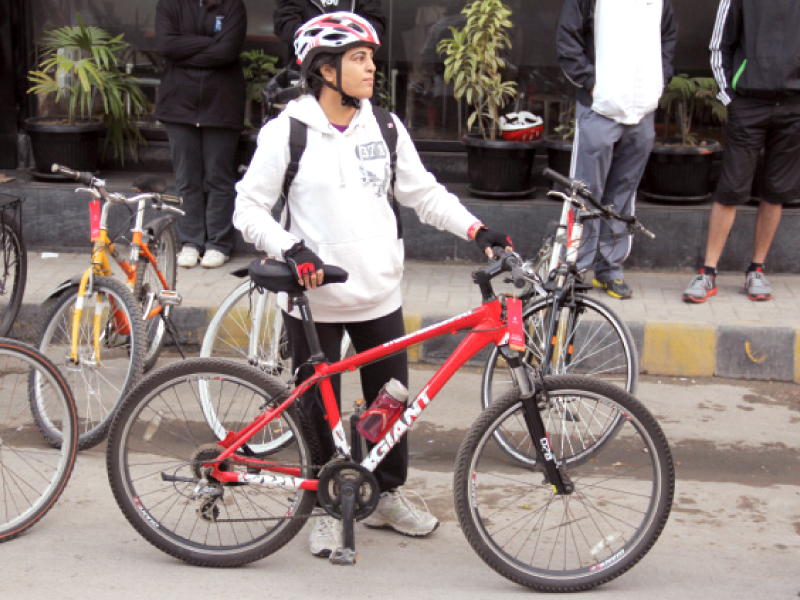 ---
KARACHI:



One small step for man, a giant leap for womankind – in Pakistan, at least.




All eyes were on at least 30 Pakistani women who came out on the streets of Karachi on Tuesday to cycle, have fun and make a point.

Although the number of cyclers was far below what was expected (171), the group of 30 women gathered outside Butlers Cafe at 7:30am and rode their bikes all the way from Zamzama to Sea View and back.

As cameras clicked around them, the women felt like celebrities with media vans, police, rangers and male cyclists following their every move and supporting their initiative in every way. Early morning drivers, nashta eaters, pedestrians stared at them with what looked like a combination of shock and envy.

None of this would have been possible if Anila Weldon, founder of Weldon Moms, and her friends Sameer Beg and Yahya from cycling group Critical Mass had not taken the initiative a few weeks ago to arrange this well-thought out and equally well-executed event.

Critical Mass is a cycling movement and group which started in the US and has more than 1,700 members in Pakistan today. They have been cycling for a few years and have taken rides all the way from Sindh to Balochistan; ridden to Quaid Azam's mausoleum on independence day hoisting flags on their cycles and have never let a Sunday or an Eid day pass by without cycling.

"When you cycle early morning in Karachi, you experience the city in a completely different way. You feel the dips, uphills, downhills – you know every pothole by heart. Even the air feels fresh, and the roads look beautiful when you're on a bicycle. It's almost impossible to experience those things in a car," says a young girl while riding her bike as I follow her slowly in my own car.

Another cyclist, Zarmina Ahmed shares, "Each time I wake up early morning, offer my fajr prayers and get ready to go out cycling with Anila and a few friends. My 17-year-old son always looks at me funny and says 'Mama, why can't you be like the other mums'." Despite coming from a highly educated background, she still sometimes gets flak for cycling on the streets by her family.

But can she really blame them for being protective? It's safe to say Karachi is quite unsafe, but these eager women, regardless of the situation in the city, are unstoppable.

While the cyclists continued slowly towards Sea View, I stopped by a growing line of men, women and children sitting on the side of a road waiting to be fed breakfast by a small dhabba. I asked the women if they understood what all the police cars and media vans were chasing. "Aurat cycle challa rahi hay (a woman is riding a cycle)," one of the women, Rakhshanda, pointed out.




Asked whether she would join them given the chance, another woman, Razia Bibi said, "Why not? Cycles don't need petrol; neither do we need to pay any fare unlike in buses."

However, one of the women was not impressed. When I asked her if she would participate, she shook her head and pointed towards her mouth, clearly meaning to say: Is cycling really a priority when one is going to sleep hungry?

I pose the same question to one, Mustansir Bandukwala, when the cyclers return from their 10km ride. "A joy ride on a cycle is possible at this time but to take this on a larger scale does not seem practical at the moment. There are so many other issues at play in Pakistan that our priorities are focused elsewhere. Culturally speaking, it will also not be accepted easily."

But Anila and her friends have a different story to tell. "When they see us biking, a lot of men in cars give us a thumbs up or scream 'Pakistan Zindabad'. We always go out early morning and till now we've never been harassed," Anila said, but added, "Maybe it's because the hooligans are dead asleep at the time."

On the way back, I stopped to ask a driver washing his employer's car his opinion on women cycling. "Islam does not allow it," he said. But when asked to elaborate, the driver simply says, "Women should not be out on the streets. My wife and daughter stay at home and they have never spent a single night going to sleep hungry. When everything is provided to women, they don't feel the need to get out."

Although Tuesday's event might have been successful in selling the concept of cycling in certain circles, it will take a long time for cycling for women to trickle down and be embraced by the average Pakistani.

View a slideshow of the event here.

Published in The Express Tribune, February 6th, 2013.
COMMENTS (11)
Comments are moderated and generally will be posted if they are on-topic and not abusive.
For more information, please see our Comments FAQ