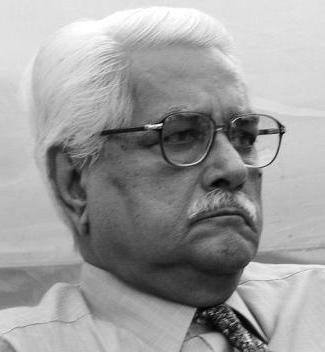 ---
KARACHI: Renowned Sindhi intellectual' writer' journalist, lawyer and former editor of Sindhi daily Hilal-e-Pakistan Sirajul Haq Memon passed away in Karachi late Friday night at a local hospital. He was 79 years old. 

Born in Tando Jam in 1933, Memon was the author of many scholarly works on history and literature and also the author of Parado So Ee Saddu, a famous novel in Sindhi language. He wrote about a dozen books and was considered a pillar of modern Sindhi literature. He published two collections of short stories and 6 novels in Sindhi.

He also worked on Sindhi linguistics and contributed research reports on the history of the Sindhi language. He had been the editor of Sindhi newspaper Hilal-e-Pakistan for six years.

When Zulfiqar Ali Bhutto' the first elected prime minister of Pakistan' formed the Pakistan Peoples' Party in the late sixties' he bought Hilal-e-Pakistan' then published from Hyderabad. In 1972' Bhutto decided to shift the paper to Karachi and switch over to modern methods of printing. Renowned writer Memon was appointed as the editor. He took the paper to new heights. The daily Hilal-e-Pakistan' under the editorship of Memon, revolutionised Sindhi journalism.

The deceased had resigned from his editorship when the martial law regime of General Ziaul Haq took over the paper in late 1977.

Memon also served on several other important positions, including the Assistant Secretary of the Sindhi Adabi Board.

He was the uncle of Sindh Information Minister Sharjeel Memon, elder brother of Chairman of Sindhi Language Authority Fahmeeda Hussain and former PTV Producer Abdul Haq Azeem.

Chief Minister Sindh Syed Qaim Ali Shah expressed deep grief and sorrow on the demise of renowned scholar Sirajul Haq Memon.  The minister rang up Sharjeel Memon and expressed his condolences for the demise of his uncle.

The funeral prayers for Sirajul Haq Memon will be held on Sunday, February 3 2013 at 1:15 pm at Sultan Masjid, Phase V DHA Karachi.