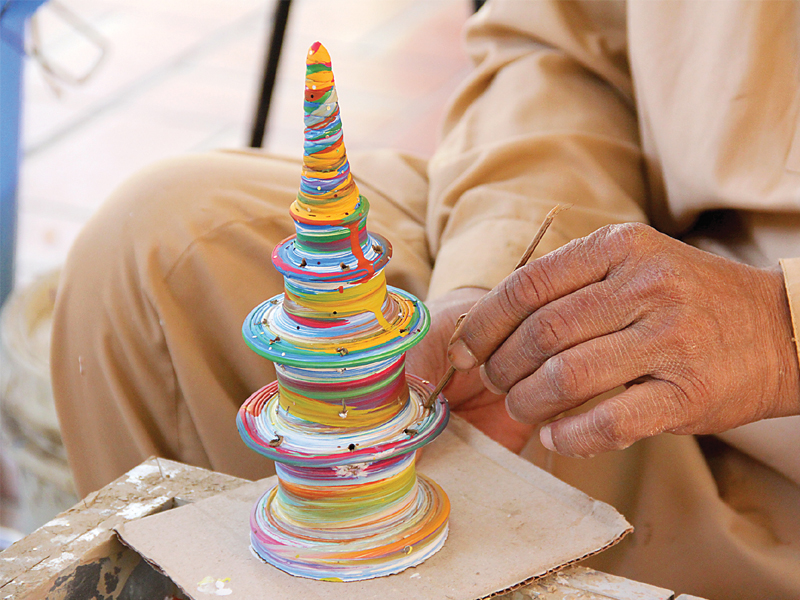 ---
KARACHI:



The potters of the country may not be wizards, but they still have the magical power to transform soil into dazzling, colourful objects that have brought joy to many lives.




At the three-day 'Kumbhar Mela' orgainsed by the Sindh Indigenous and Traditional Crafts Company at the Rangoonwala Community Centre, they have been offering up their wares to delighted customers. Saadia Pervez, who went to the mela on Sunday, was one of the people thrilled by the objects for sale. "I used to make this stuff! The long lost memories of my childhood have been refreshed by the mela," she said. "It's sad that our children don't engage in such a wonderful pastime anymore."

Craftsmen from parts of the country, including Hyderabad, Badin, Mohenjo Daro, Hala, Bhit Shah, Swat and Dera Ismail Khan are participating in the mela. Even they have noticed the seemingly magical effect that their wares have had on the people.




"The elderly go into a trance when they see the small items for sale. Sometimes they start crying and buy small toys without even asking for their price!" said Muhammad Ismail, a craftsman from Tando Bago in Badin. His small stall was bursting with over 300 interesting items which he had made himself.

Among them was a small clay elephant which could suck water through its trunk. "Our forefathers made stuff like this and people still like to buy them today," he told The Express Tribune.

Ghulam Muhammad Kumbhar, another craftsman, said that the items made of terracotta might look fragile and small, but it takes herculean effort to make them. "You need special soil for the purpose and we have to search for it.

We can make just about anything under the sun - toys, pottery, dinner sets - you just have to name it."




Behroz from Swat also chimed in and agreed with the fact that all of his muscles get a workout when he makes the objects. "I can make 15 different items, but people will have to tell me in advance. It isn't an easy job because I have to collect terracotta from mountains and then process it."

But for some potters, the trade is much more than just making decorative items - it's about reviving and preserving culture that was lost over time. Making seals, toys and other objects similar those archeologists have discovered in Harappa is not only Muhammad Nawaz's family business, it's his passion as well. His family has been in the trade for over two decades. "People love to buy such objects. We want to bring back things from the past and preserve them. But it is very difficult to make small seals instead of bigger items with clay," he told The Express Tribune.

Like Nawaz, Khadim Ali Kumbhar from Mohenjo Daro also proudly said that he could make any item found from the historical site. "Foreigners like to purchase clay objects from us when they visit us at Mohenjo Daro."




And indeed, Anum Rehman was having a hard time picking up just a few items from the myriad of dazzling, colourful objects on display for her cousin in the US. Her husband, Abdul Rehman, said, "We have already collected several items and now we want to send them to our relatives who live abroad."

Anum's parents hail from rural Sindh, but she never got a chance to play with or make a clay figurine of her own. "My uncle has dozens of them displayed at his home," she said. "These things are part of our culture and tradition. I am somehow attached to them."

Published in The Express Tribune, January 28th, 2013.
COMMENTS
Comments are moderated and generally will be posted if they are on-topic and not abusive.
For more information, please see our Comments FAQ