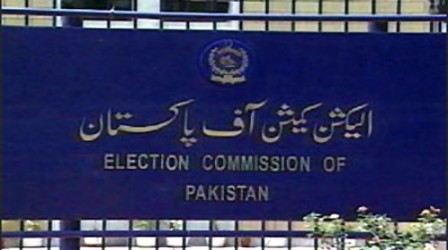 ---
ISLAMABAD: The Election Commission of Pakistan (ECP) on Wednesday approved a draft of electoral reforms, proposing effective legislation to curb rigging in upcoming general elections and ensure transparency and credibility of the polls.

An ECP meeting on Wednesday approved the enhancement of monetary penalties for illegal and corrupt practices, while also calling for enhancement of the nomination fees for candidates of National and Provincial Assemblies.

"Draft reforms package will be sent to Law division for proper legislation," DG Elections Sher Afgan said at a news conference.

He added that the ECP has also approved registration of 11 new political parties while elections symbols have been allotted to 16 parties that were already registered, including the party of renowned nuclear scientist Dr Abdul Qadeer Khan.

Earlier, the commission had decided to increase the nomination fee from Rs4,000 to Rs50,000 for national assembly candidates and from Rs2,000 to Rs25,000 for provincial assembly candidates.

The Special Committee of the Senate on Election Issues has already agreed to the proposal and it will now be sent to the Parliament for simple legislation.

The ECP also decided to increase monetary fines for corrupt practices from Rs5,000 to Rs100,000. These practices include impersonation, capturing of polling stations, bribing voters and election staff and intimidation. Prison sentences for such violations will continue to be three years.

Similarly, fines for illegal practices inside the polling stations jurisdiction has been proposed to be increased from Rs5,000 to Rs100,000.

Another proposal has also been adopted to make an official code of conduct as part of the Representation of the People Act. The candidates would have to face a penalty of Rs100,000 for violating provisions of the code, such as holding processions and posting banners, posters and billboards.

"For all these provisions, legislation would be required and the draft of reforms is being sent to Law Division for necessary legislation through the Parliament," DG Elections told the media.

The commission meeting also discussed the issue of dual nationality and noted that 12 dual nationals in parliament had already been disqualified, while 16 others had resigned. Since no action was taken against those who resigned, the ECP decided to submit a list of all 28 parliamentarians with the Supreme Court for further necessary action.

Regarding a letter by Abid Hassan Manto about implementation of the Supreme Court decision, the commission discussed his proposals, which included compulsory voting, clear majority formula and the none of the above (NOTA) mechanism in vote casting.

The commission sent these proposals to law divisions for consideration of legislation on these issues.