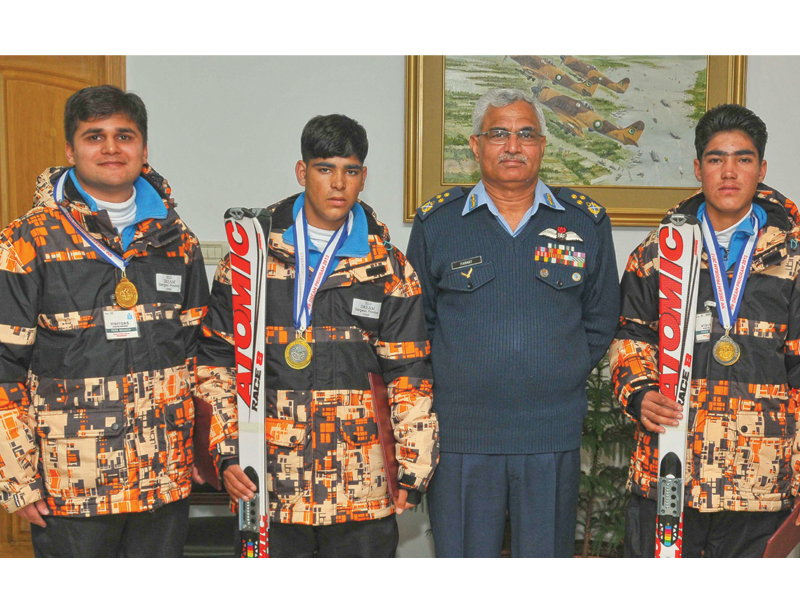 ---
KARACHI: Noor Muhammad and Shah Hussain claimed glory by not only winning a gold and a silver medal respectively in the Dream Skiing Programme 2013 in Korea this week, but also broke tradition to become the first people from their families to even go beyond Gilgit.

The pair was a part of the Dream Programme sponsored by the Korean Skiing Federation, where 150 children from 40 countries participated in a week-long training camp that concluded with the giant slalom race.

The Pakistan Skiing Federation (PSF) had sent only two athletes – 14-year-old Noor and 13-year-old Shah – who are currently enrolled in the Naltar Skiing School run by the Pakistan Air Force (PAF). They were chosen for the programme in Korea out of 25 students.

According to their coach Faraz Nawaz, it was incredible the way both Noor and Shah overcame cultural shock and quickly grasped the techniques taught by the Korean coaches despite the language barrier.

"I have been with these kids for two years now, but I never thought they would be able to win the medals," Nawaz told The Express Tribune. "Their confidence was amazing. Instead of losing their heads and being fascinated by a foreign country, they observed and turned out to be the best skiers in Korea. For the children who have never travelled beyond Naltar, that is a big achievement."

While communicating in Urdu or English is challenging for them, Shah believes the sport has nothing to do with language when all he needs is a steep slope to ski on.

Both Noor and Shah began skiing at a young age in Naltar. According to Noor, everyone in Naltar has wooden boards, and the sport is the only pastime that was offered to them in their village. However, they only began proper training and got adequate equipment for the sport when they joined Naltar Skiing School two years ago.

"We were lucky to get the opportunity to participate in Korea," said gold medallist Noor. "My father is a security guard, who never thought I could make it this far. But I did, and now I believe I can make things better for my family by taking up skiing professionally."

Meanwhile, Shah's elder brother was a former Naltar Skiing School student, who later joined the Army and skied for them at the national championships.

"I want to follow the same path and strive to become a better skier than my brother," said Shah, who studies in the eighth grade at the Gilgit High School.

Now both Noor and Shah are looking forward to the National Children Skiing Championship that will start from January 25 in Naltar and Nawaz believes the talented skiers will easily win the championship.

The two teenagers aspire to represent the country at the Winter Olympics 2018 that will take place in Korea.

Published in The Express Tribune, January 24th, 2013.
COMMENTS
Comments are moderated and generally will be posted if they are on-topic and not abusive.
For more information, please see our Comments FAQ