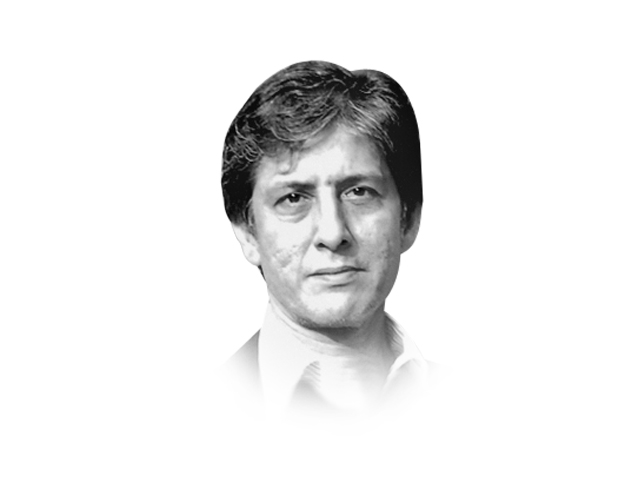 ---
Let's get the baseline straight. Pakistan and India cannot afford a hot conflict. Anyone who thinks or advocates otherwise is either stupid or dishonest.

In Pakistan, we have a politico-military consensus on the following: we face an internal threat which also has linkages, at some levels, with external threats and we have to deal with it; we need zero conflict in the region; we have to normalise and develop meaningful relations with all the neighbours in and beyond the region; we have to focus on economic and social development.

This paradigm requires that we deal with India and Afghanistan, improving and normalising relations with both and expanding outwards to other states. The concept is necessitated by geography and demands that we leverage our placement on the map. For years we have talked about our strategic location. For years we have squandered the opportunities it offers us, turning it into a liability rather than using it as an asset.

Our location demands that we open up to the world; integration, not isolation, must be the thrust. If we are the strategic bridge then it should be clear that bridges work best when they link. They are useless when they don't.

This is the straight line on the graph. In the real world there are always swings on the ideal line. That brings me to the recent, orchestrated flare-up in India against Pakistan. My use of  'orchestrated' is considered. So here goes.

It will be instructive for a researcher to rewind to the first day when news came about an Indian raid across the Line of Control (LoC) at Haji Pir and then play forward what happened after that in India. This exercise will establish that while the Indian government did not react to the story in the opening phase, the Indian media and the Indian Army began to set the tone for Delhi and pressured the United Progressive Alliance government. In Pakistan, for days, initially, the media had no clue about what was going on.

Play out it did and while the Haji Pir aggression was pushed in the background, we got stories about what Pakistan had done by allegedly sneaking in a team to kill two Indian soldiers, one of whom was 'beheaded'. Using classic propaganda techniques, the Indian media reduced the issue to the alleged beheading sans any reference to what had earlier happened and the fact that India has been violating the ceasefire agreement at places since last year. TV screens flared up. The Hindu right wing demanded Armageddon. Sane voices in the print were ignored, easy to do that because when it comes to Pakistan, there are very few sane voices in India to begin with.

The government of Dr Manmohan Singh, a walking corpse now, under pressure domestically for several reasons, buckled under. Dr Singh declared it was not business as usual; the normalisation process was hit; Pakistani hockey players were asked to leave; the same happened to Pakistani singers and showbiz people, etcetera. The details are available. Singh has since tried to feebly control damage but he is hardly in control.

Why did this happen? Firstly, unlike Pakistan, there is no real political consensus in India on normalising with Pakistan. Regardless of Pakistan's concessions, and Pakistan has conceded almost everything India has demanded over the years — trade, investment, MFN without reference to disputes — India demands, though it won't say so for obvious reasons, unconditional capitulation from Pakistan.

Secondly, India is conscious of, and worried about, Pakistan's new foreign policy initiatives. For years, but more recently since Kargil, India had relied on painting Pakistan as a belligerent state, responsible for hers and South Asia's woes. Pakistan's aggressive diplomacy towards eradicating conflict runs totally contrary to how India wants to present Pakistan to score diplomatic points. Linked to this is the situation in Indian-Occupied Kashmir. In the 90s, India could move the issue away from its oppression of Kashmiris — which continues — to presenting it to the world as a terrorism problem. What to do now? Hot up the LoC, start crying infiltration to cover up its violations of the Line and blame Pakistan.

Thirdly, India is not very happy with Pakistan regaining its position in Afghanistan vis-a-vis the United States as well as the current Kabul government. New Delhi is also concerned about its influence and investment in Afghanistan post-2014. Neither was entirely benign. It helps to try and put Pakistan back in the doghouse.

Fourthly, it is interesting to note how the Indian military, in combination with the media, got into the play. Quite apart from the fact that it makes interesting study to note the Indian military's rising influence over the years in policymaking — a point I have been making for several years now — the aggression shown first by the Indian Chief of Air Staff (CAS) and then by the COAS have other reasons.

India's growth rate has gone down; it will fall further. The Indian military budget — maintenance and development — has been growing exponentially. Deeper pockets had allowed the Indian military to move from the labour-intensive to the capital-intensive model. That is under threat now.

There are acquisitions in the pipeline. With pockets shrinking, sceptics in India will question some spending and might even ask to slash some programmes. Militaries hate that. They need an excuse to defend allocations. For the Indian CAS, the Rafale fighter acquisition is crucial, which is why he chose to speak up on a minor tactical issue concerning ground forces at the LoC. [NB: Check facts on India's military imports and modernisation from SIPRI, IISS and Jane's.]

In an ironic way, India's worry is a salute to Pakistan's new policy, steered by the Foreign Office under the able guidance of Pakistan's young foreign minister. That's a separate topic to which we shall return another time. But here, it is important to note that despite India's provocative behaviour, Foreign Minister Hina Rabbani Khar has continued to keep her humour and the policy Pakistan has decided to pursue. This is precisely what the Pakistani media must do as well while countering the Indian propaganda. Equally, India must realise that full normalisation is a function of dispute resolution and engagement is not spelled 'appeasement', thank you.

Published in The Express Tribune, January 23rd, 2013.

Correction: In an earlier version of this article, India's military imports were mistakenly mentioned as military exports. The error has been rectified. 
COMMENTS (69)
Comments are moderated and generally will be posted if they are on-topic and not abusive.
For more information, please see our Comments FAQ