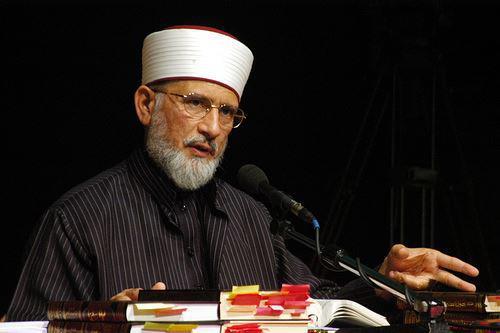 ---
Canadian authorities on Friday summoned Minhajul Quran International (MQI) chief Dr Tahirul Qadri on February 5, and sought explanation from him for violating the oath he took while seeking asylum, Express News reported.

The authorities said that Qadri violated the oath stating that he was not allowed to enter the country he had sought asylum from.

According to Express News correspondent Shakeel Anjum, Abdul Shakoor Qadri, otherwise known as Tahir Qadri, had sought asylum from Canada in 2008, fearing threats to his life after he met with the Danish cartoonist responsible for making blasphemous caricatures of Prophet Muhammad (pbuh).

Qadri, through his lawyer Mendel Green, had requested that he was receiving death threats from Tehreek-e-Taliban Pakistan, Lashkar-e-Jhangvi (LeJ) and Sipah-e-Sahaba.

On October 17, 2009, his asylum application was accepted, while he was issued the Canadian passport about six months back.

The MQI chief has also been receiving welfare funds from the Canadian government, citing health issues.

Qadri, who led a 5-day long march in Islamabad which concluded Thursday evening, is currently present in Pakistan.

He is scheduled to fly back to Canada on January 27 along with his family.

Correction: An earlier version of this article had incorrectly stated Royal Canadian Monitoring Police instead of Royal Canadian Mounted Police. The error is regretted.
COMMENTS (158)
Comments are moderated and generally will be posted if they are on-topic and not abusive.
For more information, please see our Comments FAQ