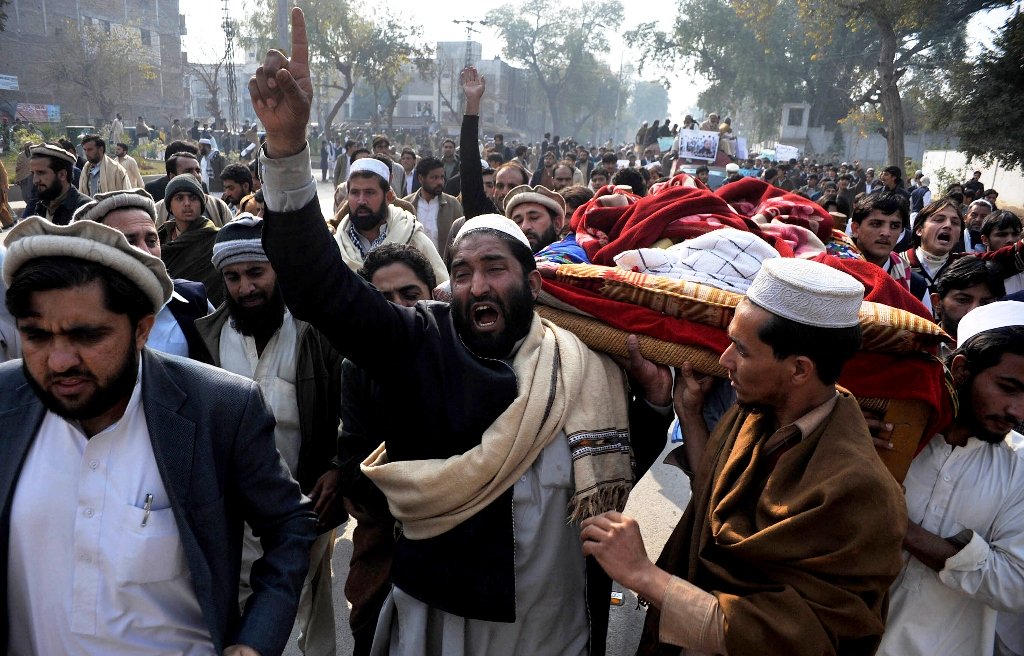 ---
PESHAWAR: Bara protesters and police clashed outside the Peshawar Press club after officials attempted to disperse the crowd on the second day of the protest, Express News reported.

The police fired shells at the protesters and resorted to aerial firing. The protesters, responding in kind, pelted them with stones.

The ensuing chaos resulted in aerial firing from both sides which injured a few among the crowd.

The protesters, however, dispersed from outside the press club after a another contingent of police reached the scene.

Police, earlier today, fired tear gas shells to disperse coffin-carrying protesters who refused to bury 14 people allegedly killed in a raid by security forces, officials said.

The pre-dawn operation was launched about 13 hours after around 300 people staged a sit-in outside the governor's house in Peshawar along with bodies of those killed in the raid on Tuesday night.

The protesters blamed security forces and refused to bury the bodies until they get justice.

"We used tear gas and dispersed the protesters because they were creating a law and order situation in Peshawar," senior police officer Kamal Hussain said.

The bodies were taken to their home town of Bara and handed to the local administration for burial, he said.

Local police station chief Shabih Hussain confirmed the tear gas shelling, adding that 17 people were arrested and later released.

Residents said armed men attacked five homes in Bara and killed 14 people on Tuesday night.

"They entered our houses and killed our relatives to avenge the killing of six security personnel in the same area of Bara on Monday night," said local resident Muhammad Shabbir, a former member of the Frontier Corps (FC), told AFP.

Security and military officials denied that security forces were involved and said it was militants who attacked the homes.

Shabbir said his father, five brothers and two cousins were among the dead.

The government ordered a judicial enquiry into the incident and decided to pay 400,000 rupees ($4,000) each to the families of the deceased, Hussain said.

Wednesday's protest was the second of its type in a week.

In Quetta, thousands of Shias demonstrated for four days after the worst-ever bomb attack on their minority community in Pakistan killed 92 people.

They refused to bury the dead, demanding the army take over security in Quetta. The protest mainly by ethnic Hazara Shias ended after Prime Minister Raja Pervez Ashraf sacked the provincial government.

Last month, Amnesty International said both the Pakistan military and the Taliban were guilty of rights abuses in the tribal belt. The military rejected the allegations as a "pack of lies".
COMMENTS (28)
Comments are moderated and generally will be posted if they are on-topic and not abusive.
For more information, please see our Comments FAQ