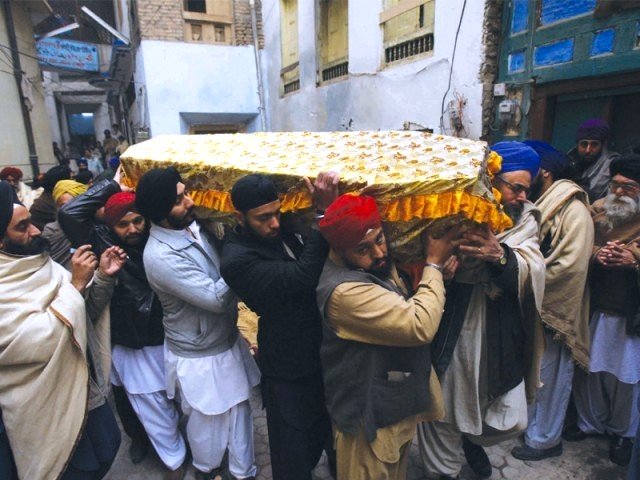 ---
PESHAWAR:



The brother of slain Sikh businessman Mahinder Singh Tuesday said the government should either provide security to the community or arrange their emigration to another country.




"If the government cannot provide security to the minorities, it should arrange for their migration to a safer country," Jawar Singh told The Express Tribune.

Herbal medicine dealer Mahinder Singh, 46, was kidnapped from his shop in Tabbi village, Bara teshil of Khyber Agency by unidentified armed men on November 21, 2012. His body was later found in a gunny bag on January 8 from the Chora area.

Jawar said it was evident from the body that Mahinder was beheaded 20 to 25 days earlier and that they identified him only through the marks on his body. "It was a cruel act and authorities should take action against those involved."




Jawar reiterated that his brother had no personal enmity or affiliations with any militant group. He alleged the Zakhakhel tribe of being behind his brother's murder and said they earlier contacted the political administration and also sent an application to late senior minister Bashir Ahmad Bilour for Mahinder's safe recovery, but to no avail.

Jawar maintained no one had contacted them for ransom following Mahinder's kidnapping either.

Demanding compensation for Mahinder's family, Jawar said the day Mahinder was kidnapped, his shop was also robbed and medicines worth Rs4 million along with cash was stolen.

He said his brother leaves behind two wives and six children, one of whom is disabled by polio. "We don't know how we will support his wives and children. That shop was their only source of income."

Jawar said Mahinder's children were enrolled in a private school, but they can no longer afford it. "We will be left with no other option but to leave if the government does not support us," he added.

According to officials of Khyber Agency's political administration, a local militant outfit has claimed responsibility for Mahinder's slaying. They said a note found next to the body read: "The man had been killed for spying for our rival militant group Lashkar-e-Islam."

Jawar said Lashkar-e-Islam had imposed a tax on non-Muslims residing in Khyber Agency and they faced no threats or problems. But the situation deteriorated when the military operation started in 2009 in the area.

He said around 350 Sikh families have migrated from Khyber Agency due to the growing intensity of terrorism and military action. A majority of the community's members are businessmen, but continuous fighting and curfews have greatly affected their livelihood.

Most families are now residing in Peshawar and Punjab.

Published in The Express Tribune, January 17th, 2013.