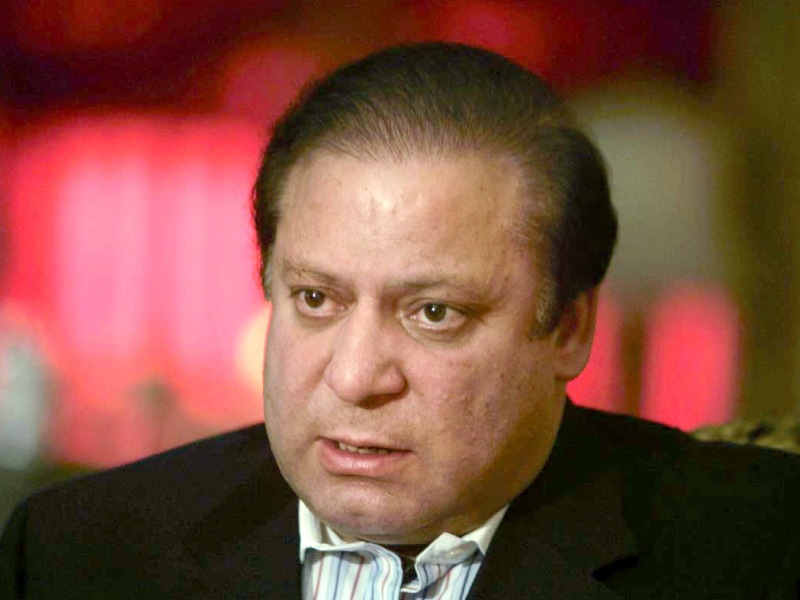 ---
LAHORE:



Former prime minister Nawaz Sharif has called for greater economic cooperation with India and other regional countries, saying that Pakistan cannot overcome its problems without them.




"Our problems have become so acute that they cannot be overcome simply by economic policies and reasonable conditions of security, unless they are complemented with and reinforced by cooperation in the region," Sharif said in a speech at the South Asian Free Media Conference here on Tuesday.

The PML-Nawaz chief said that cooperation in the energy sector was particularly important, as it would ensure tangible and immediately visible benefits which would strengthen peace and stability.

"Cooperation in the sectors of energy and power should now occupy the highest priority for the regional countries, both bilaterally and through the mechanism of SAARC [South Asian Association for Regional Cooperation]. There is an urgent need for this initiative as this energy starved region cannot strengthen its economy, in any significant way, without regional cooperation. This should then be extended to the energy-rich Central Asian states," he said.

Sharif welcomed the government's decision to improve trade relations with India as a step in the right direction, but added that it must also tackle the issue of non-tariff barriers and finalise a road map for freer trade.




"Our first and foremost task should be to identify areas where we can enhance and expand our economic and commercial cooperation. This is particularly applicable to Pakistan which has seen high population growth coupled with low rates of economic growth, pushing larger numbers into the poverty zone. The past decade has also witnessed an alarming decline in national development, particularly as regards allocation for the country's growth and socio-economic development," he said.  "Is it any surprise then that the entire region has suffered because of our failure to appreciate the negative fall-out that arises from subordinating economic realities to political considerations?"

Sharif said that the destinies of India and Pakistan were connected. "There can be no peace in one country, without peace in the other. Similarly, you cannot expect to have pockets of prosperity in a vast ocean of poverty. The challenges are enormous, but given a common vision and unflinching resolve, there is no reason why we should not be able to overcome them," he said.He said that the South Asian Free Trade Agreement had failed, as intra-regional trade remained at around five per cent of the total trade of South Asian countries. "South Asia as a regional trading bloc has not made any significant contribution in improving India-Pakistan trade," he added.




Sharif also stressed the need for cooperation in view of the damaging effects of climate change. "It is not only the people of this region who are yearning for peace; nature itself is pointing to the need for such a course of action. The manner in which climate change has transformed the environment and impacted on glaciers on the Himalayas, the Karakoram and Hindu Kush mountains, which feed the mighty rivers, has highlighted the urgency of cooperation in the region to monitor the glaciers and scientifically study the monsoon patterns," he added.

He welcomed the recent visa agreement between India and Pakistan, while calling for a greater exchange of journalists, academics, sportsmen and women and civil society "Visas must also be allowed to these categories," he added.

Speaking on the occasion, Dr Ijaz Nabi, the country director for the International Growth Centre, said that diplomats should not be in charge of discussing trade related issues. The political leadership and businessmen from the two countries should lead such discussions instead.

Safma General Secretary Imtiaz Alam said that the aim of the conference was to promote a culture of dialogue and an environment for tolerance, peace, conflict resolution and cross-border cooperation, leading towards a South Asian union. Political analysts Najam Sethi, Hassan Askari Rizvi and Khaled Ahmed also spoke at the conference.

Indo-Pak Ties: 'I'll try to stabilise relationship'

PML-N chief Nawaz Sharif has said he will try his best to restore normalcy to the India-Pakistan relationship should he be elected the next prime minister.

Talking to reporters at the sidelines of the South Asian Free Media Conference, Sharif said that peace was vital for the people of India and Pakistan. He said that economic cooperation could not be enhanced without a supportive political environment.  Asked about the long march on Islamabad planned by Dr Tahirul Qadri, Sharif said: "Those who are making tall claims will learn their worth when the long march is started."

Published in The Express Tribune, January 9th, 2013.
COMMENTS (15)
Comments are moderated and generally will be posted if they are on-topic and not abusive.
For more information, please see our Comments FAQ