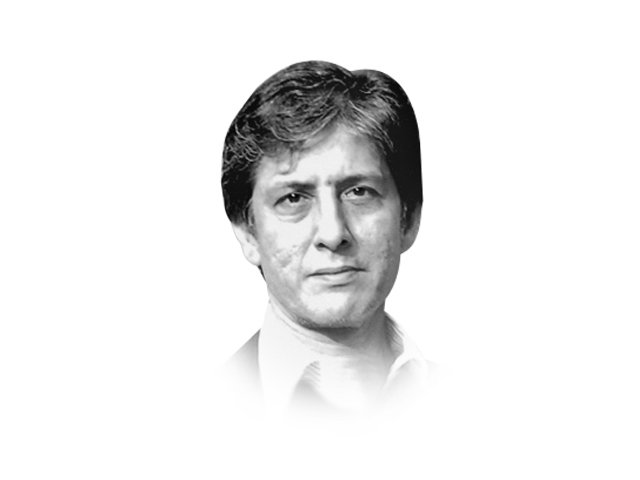 ---
Karachi, today, is a violent urban jungle with an assortment of lowlifes keeping the population hostage to their bastardly instincts. Consider the list of culprits.

There are the scions of Baloch and Sindhi sardars and waderas who move around in SUVs with guards brandishing weapons (note that they do so because their elders are bigger scum, thank you). Then there are the children of the urban rich who, having failed to instil urban values in the sardars and waderas, have adopted the latter's rural-medieval mindset. There are crooked politicians, their guards, political storm troopers; criminal gangs, ranging from thieves and robbers to land grabbers to extortionists and murderers to hired guns; cops on the take; a government split along ethnic lines; anyone who can rent a gun and settle a score. Finally, add to this list the Taliban terrorists and sectarian killers and you have, dear non-Karachi-ite reader, what is Karachi.

At the centre of this is the majority of Karachi-ites, resigned to their fate, living from day to day, a terrified, terrible existence.

Nothing I've said in the preceding paragraph will surprise Karachi-ites. Karachi was not always like this but that's another story. For now, this is about what it has become.

Some of where (and how) Karachi became this hell is contained in a long-forgotten report by a commission Mr Nawaz Sharif had set up in the 90s under one General Shafiqur Rehman. This was the time the Marwat brothers were running amok. My friend Mazhar Abbas, a journalist of high merit, who has seen Karachi go to the dogs (or seen dogs come to Karachi, whichever way one puts it) tells me that the then chief minister of Sindh, Jam Sadiq Ali, would not provide security to the commission. They were holed up at the Sheraton and people deposed before them in the hotel. Still, the report is worth a read.

Extortion is common practice. Speak to businessmen and shopkeepers in the city and one realises the extent of the menace. People of all ethnicities and political affiliations are involved in it. A very senior journalist who constructed a house in Gulistan-e Jauhar received a call from the Baloch Aman Committee and the caller, after congratulating him on the new house, demanded that he pay up Rs100,000 to ensure safe living in his home.

The journalist went to the Sindh governor, the Sindh CM, the IG Police, the CPLC, PFUJ, KUJ, the Presidency, you name it. Result: zip, zilch and zero. He locked his home and has shifted to Islamabad. The man has a home in Karachi and he is living in a rented house. Welcome to Karachi.

I asked Sheheryar Mirza, a young, freelance journalist, what the hell is going on. He had more stories to tell. A police officer said the police could clean up the city if only "we were given a free hand". What does 'free hand' mean, I asked Mirza. "In the case of Karachi, it means that police officers will be allied with whoever is in power and their master's enemies will bear the full brunt of police's coercive power."

So, the answer is not just giving a free hand to the police but creating a professional force that is politically neutral and whose work cannot be hampered by politically influential individuals. "They know, for the most part, what is going on," says Mazhar, adding: "See, how quickly they have rounded up the accused in Shahzeb Khan's murder case with the SC's backing."

The young man's murder was what got me talking to people. Karachi has seen many killings. But for the most part they are either politically motivated, are the result of extortion and land grabbing, or are owed to terrorism. These menaces have come to define the city, unfortunately. But what about the upscale localities of Clifton and Defence; why are they insecure?

That is where the 'respectable' scum come in, treating citizens like serfs, driving around with guards, drunk, partying, picking up girls and very often raping and dumping them. "Why are such cases under-reported," I asked a friend. Because, he said, people are afraid. These families are influential and killing a human being for them is like swatting a fly. Even if a case is reported, the rich and influential criminals never get punished.

And the government? There is no government. Karachi has political factions, even within the ruling coalition. The home department is dysfunctional. Zulfiqar Mirza, who huffed and puffed about security and governance, patronised criminals in Lyari. According to some estimates, he issued licences for some 400,000 weapons. We are, of course, told no weapons licences will be given until the elections. Is someone frikkin' kidding us?

Shakir Husain, entrepreneur and writer, says it's not just the feudal families that act like this. "This is a mindset. They break traffic rules, drive people off the roads; they can get away with anything."

Some people are buying guns and acquiring guards as deterrence. The trend will continue. Those who bend will crouch and take it lying down. Those who say enough will also get into the killing game. Because what else can one do, living with constant indignities and governmental apathy, but take the war to the lowlifes, whether they reside inside or outside the government?

The police are not only corrupt and criminalised but also lacks manpower, equipment, investigation skills and professional integrity and independence.

This is a recipe for disaster in Pakistan's financial hub. To imagine that the Sindh government and, by extension, the federal government can mount effective counterterrorism operations in a city that the vermin of all types hold by the short and curlies is to try and find one straight bone in Rana Sanaullah.

Karachi needs to be cleansed; from upper crust pests residing in upscale localities as much as from the thugs holed up in Orangi, Lyari and elsewhere. It needs political commitment and an effective police and civil administration. This is obvious. The question is, how.

You want to know when a system has become totally dysfunctional? It is when the highest court in the land has to take suo-motu notice of a murder case because the nation is being ruled by criminals.

Published in The Express Tribune, January 9th, 2013.
COMMENTS (144)
Comments are moderated and generally will be posted if they are on-topic and not abusive.
For more information, please see our Comments FAQ