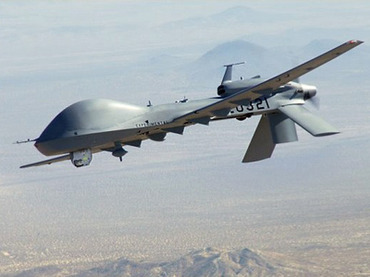 ---
MIRANSHAH: US drones fired a volley of missiles at militant hideouts in northwest Pakistan on Sunday, killing at least 12 Taliban fighters near the Afghan border, security officials said.

The missile attack took place in Babar Ghar village in South Waziristan, a tribal district bordering Afghanistan which is a stronghold of Taliban and al Qaeda-linked militants.

"US drones fired several missiles at two militant compounds. At least 12 militants have been killed and several others were wounded," a security official in Miranshah told AFP under condition of anonymity.

The official earlier said eight militants were killed.

"There are members of Tehreek-e-Taliban Pakistan (TTP) among those who have been killed," he said, adding that a close relative of TTP chief Hakimullah Mehsud was among the dead.

"Most of the militants were from Punjabi Taliban group and a close relative of Hakimullah Mehsud," the official said.

Another security official in the northwestern city of Peshawar confirmed the drone attacks and casualties.

Intelligence officials in Miranshah said that militants had died after US drones fired up to 10 missiles on three militant compounds in the Babar Ghar attack, but the security officials could not verify that account.

Residents said that militants had cordoned off the area and were looking for more dead or wounded in the debris.

US drone strikes last week killed a prominent warlord who sent insurgents to fight Nato troops in Afghanistan along with nine other militants in Pakistan's tribal belt.

Mullah Nazir was the main militant commander in South Waziristan, part of the tribal zone where militants linked to the Taliban and al Qaeda have bases on the Afghan border. He is one of the highest-profile drone victims in recent years.

The covert US drone strikes are publicly criticised by the Pakistani government as a violation of sovereignty, but American officials believe they are a vital weapon in the war against militants.

A report commissioned by legal lobby group Reprieve in September estimated that between 474 and 881 civilians were among 2,562 to 3,325 people killed by drones in Pakistan between June 2004 and September 2012.