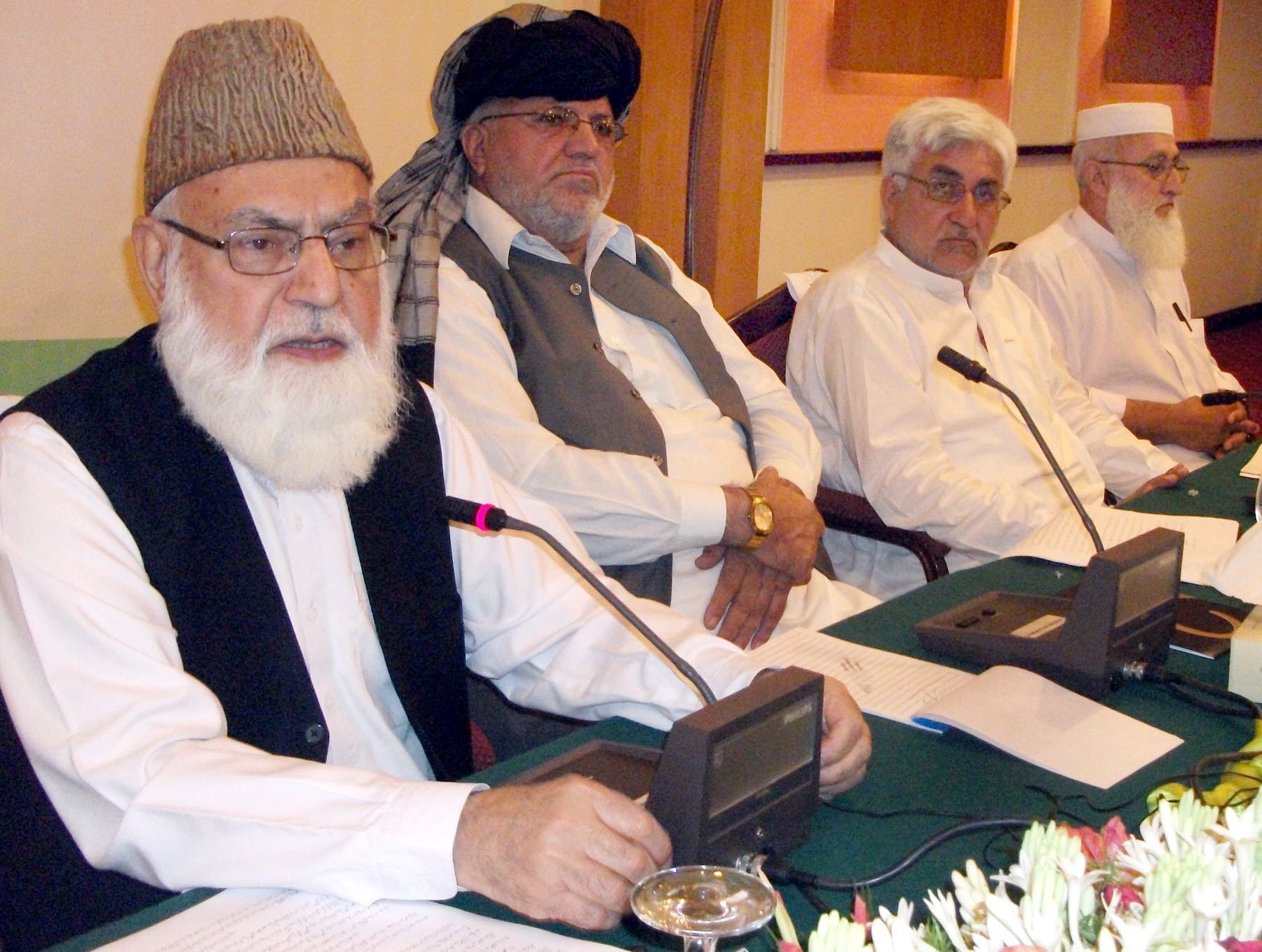 ---
KARACHI:



The former chief of Jamaat-e-Islami (JI) and former lawmaker Qazi Hussain Ahmed died of cardiac arrest late Saturday night in the federal capital. He was 74.




Qazi, who was suffering from a heart disease and asthma, was shifted to Islamabad from Peshawar for specialised treatment a couple of days back, said his son Asif Luqman Qazi.

"On Saturday night his condition deteriorated and he was driven to a nearby hospital but medics could not resuscitate him," he added. Qazi left behind wife, two sons and as many daughters to mourn his death.

He will be buried at his native village of Ziarat Kaka Saheb, in Nowshera district on Sunday.

Qazi Hussain Ahmed was elected Ameer (chief) of Jamaat-e-Islami Pakistan in 1987 and continued to serve in that capacity, getting re-elected four more times (1992, 1994, 1999, 2003).

In 2008, however, he did not run for the office and subsequently Syed Munawwar Hassan was elected to succeed Qazi. Rightly dubbed as the most popular JI chief, he was also a prominent religious scholar, Islamic theologian and advocate of Islamic democracy.

Qazi Hussain Ahmad was first elected as member of the Senate in 1986 for a six-year term. In March 1992, he was re-elected to the upper house of parliament. However, he resigned in 1996 in protest against the "corrupt political system".

In the 2002 general elections, Qazi was elected as a member of the National Assembly from his native constituency of NA-5 Nowshera. He served as the parliamentary leader of the Muttahida Majlis-e-Amal (MMA).

According to political analysts, Qazi's death is a big blow to the rightwing populist party following Professor Ghafoor Ahmed, who passed away on December 26, in Karachi.

"Qazi Sahib put up a resilient fight against corruption in the country," said JI senior leader Liaquat Baloch. Another JI leader Professor Ibrahim praised Qazi as the most proactive leader of the party who mobilised the party at home and introduced it abroad.

In his last days, he was heading the Milli Yakjehti Conference and recently he helped organise an international conference in Islamabad which was attended by leading Islamic scholars from Muslim states. He was also at the forefront of Defa-e-Pakistan Council, a bloc of rightwing parties opposed to the US-led war in Afghanistan.

Published in The Express Tribune, January 6th, 2013.

Correction: An earlier version of the article incorrectly termed Qazi Hussain Ahmed the longest-serving chief of the party. The error has been rectified.