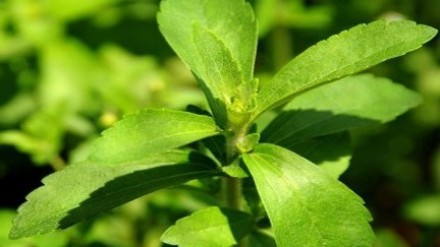 ---
WASHINGTON: A sweetener derived from the South American herb stevia is taking the global marketplace by storm, promising a zero-calorie product that also has the appeal of being natural.

The global market for stevia sweeteners has already hit 500 million dollars following US regulatory approval and could reach 10 billion dollars in a few years, according to market research firm Mintel.

Stevia, which originated in Paraguay but has been used for decades in Japan and other Asian nations, got a major boost when the US Food and Drug Administration cleared the use of a stevia extract called rebaudioside A (Reb-A) in December 2008.

Since then, stevia-based sweeteners have been adopted by big food and beverage giants such as PepsiCo, Coca-Cola, Nestle, Danone, Unilever and others, and are on its way to becoming a household name.

"Reb-A suppliers report huge growth in a market that is set to explode," Mintel said in a recent report.

"Reb-A and stevia is projected to penetrate 20 to 25 percent of the global sugar and sweetener market, which is currently still growing."

Others say the product comes at the right time with concerns growing in the United States and elsewhere about obesity linked to sugary soft drinks and other products.

"In an era with serious political and social and health ramifications of sugar and high-fructose corn syrup, stevia's new 'natural' label will give it a prime spot as the holy grail of sweeteners," says food policy consultant and blogger Naomi Starkman.

The Reb-A extract from stevia is an estimated 300 times sweeter than sugar, which means it is generally mixed with other ingredients for bulk and to ensure proper sweetening dosing.

It is being used in zero-calorie drinks or foods or reduced calorie items such as Coca-Cola's Tropicana unit's Trop50, which replaces sugar with a stevia extract called PureVia, produced by Malaysian-based PureCircle Limited.

"There is no other solution in the marketplace that can do what stevia can do," said Jason Hecker, group marketing director for PureCircle.

"It has a low glycemic index, so it can be used by diabetics and in diet products... and the product is natural."

The largest producer of stevia leaf is China, which has long supplied extracts widely used for sweeteners in Japan, where stevia has been used since the 1970s.

PureCircle buys the leaf from small farmers in various locations around the world, and operates its own farms in Paraguay and Kenya.

"Stevia is a wonderful sustainability story, it does help small independent farmers," Hecker said.

Another major stevia producer is US-based Cargill, which gets supplies through Canada's GLG Life Tech and markets the Truvia brand of Reb-A called rebiana used in Coca-Cola's Sprite Green, Odwalla drinks and other products including most recently, a yogurt mix from Breyer's.

"Consumers are more interested than ever in knowing where their food comes from and how it is made, continuing to ask for better-tasting, low-calorie, natural products. Truvia brand is answering that demand," said Zanna McFerson, a Cargill assistant vice president.

Most European Union countries still prohibit stevia, with the exception of France, which last year authorized a two-year trial period for certain stevia extracts.

Stevia producers hope for a favorable ruling this year from EU safety officials, and note that it is approved in many countries including Australia, New Zealand and Switzerland.

Yet stevia still has skeptics as well. Some claim it was hastily approved in the waning days of the administration of president George W. Bush as a favor to soft drink companies, after being banned for many years.

"It's hard to know whether stevia is safe or not, as research is minimal," says Marion Nestle, a professor of nutrition at New York University, who argues that it may be a stretch to call stevia products "natural".

"We can debate whether a chemical sweetener isolated from stevia leaves is really 'natural' but here's another problem: stevia doesn't taste like sugar," she said.

"Companies have to fuss with it to cover up its 'off' taste. And they must do so without detracting from the perceived benefits of its natural status."