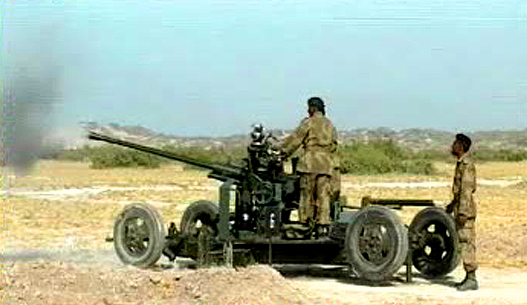 ---
ISLAMABAD: The Pakistan Army will conduct a major field exercise from today  to validate the concept of a new defensive doctrine for countering conventional threats.

The six-week field exercise, code-named Azm-i-Nau 3, involves troops belonging to all arms and services besides engagement of various aircraft and equipment of the Pakistan Air Force, military sources informed Online.

It will be the largest since the Zarb-i-Momin war-games. The ongoing PAF's exercise High Mark 2010 will be fully integrated with the army field exercise which will continue till May 13.

The exercise is being organized in areas of Southern Punjab, Sialkot and Sindh and would be participated by more than 20,000 officers and Jawans belonging to all armed services.

Director General of Military Training Maj-Gen Muzammil Hussain said India had been informed about the exercise.

He said the field exercise involving troops belonging to all arms and services would be a culmination of a long and deliberate process of war-games, discussions and logistic evolution of the Concept of Warfare fully responsive to a wide menu of emerging threats.

He said the exercise was a concept validation stage of the operational thought process manifested in the form of tactical, operational and organisational aspects which would be validated and refined through the lessons learnt.

The process commenced with the army war-games named Exercise Azm-i-Nau-2, conducted in February this year.

He pointed out that the army followed a biennial training system wherein training objectives set forth were to be achieved over a span of two years.

The training remains mission oriented based on the obtaining security environment.

The training is methodical and progressive, culminating into Map Exercises, war-games and field exercises at various levels of command.

"In the light of vision of Chief of Army Staff a comprehensive training package in the form of "Year of Training" in 2009-2010 was planned and now Pakistan Army is all set to go in the field to validate those concepts which were formulated during the "Year of Training".

Military sources went on to say that Chief of Army Staff Gen. Ashfaq Parvez Kiyani would himself supervise "Azm-i-Nau 3", besides visiting different fields. All corps commanders would be responsible for their respective command and formation.