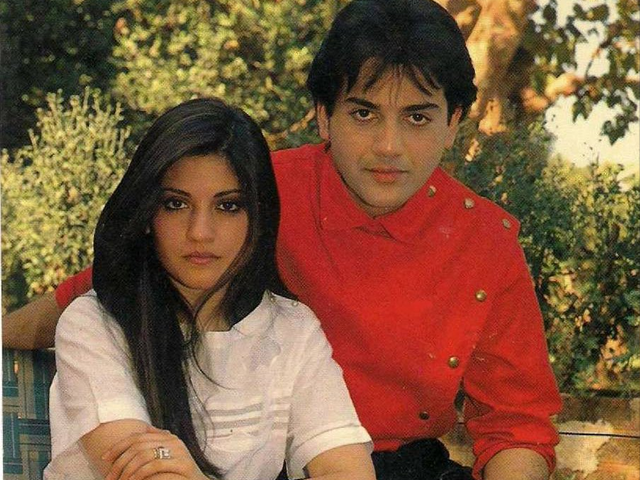 ---
KARACHI:
21 years ago today, Pakistan's iconic pop princess Nazia Hassan lost the battle against lung cancer at 35.
Fans remember Nazia and her brother, Zoheb Hassan, as the sensations that transformed pop culture in the country and made waves at home and abroad, especially across the border.

Her death may be a tragic loss for the music industry, but it is no doubt that her family bears the agonising pain of living their lives without her.

The Express Tribune recently had the chance to talk to Zoheb while he was visiting Karachi. In a brief interview and amidst flowing tears, Zoheb talked about losing his sister and living life without her.

Reflecting upon Nazia's philosophy on life, Zoheb said that she was a humanitarian. "I always told her that she should not be a singer," he said, adding that he had asked her why she was a star. "She had no airs about herself. But she believed she could reach the hearts of millions through music and singing, and could do good humanitarian work."

He explains how with his pain, his respect for his sister grew after her death. "Her charitable work, most of which I became aware of later, showed me how deeply humane she was," he said, amazed by her work. But then he grew more serious. As he spoke of her fast-paced approach to life, he shook his head sadly, "I would tell her I can't keep pace with you. But she never told me she was going to die so soon," he said. "I will never forgive her for this."

Looking troubled, Zoheb explained how he was with her in the last year and a half of her life; how we watched her wilt away. Although the doctors informed the family that Nazia would not survive, she was optimistic. "She wanted to live for her son," Zoheb said. "She wanted to do another album with me!"

He said that she kept the family in the dark about her marriage, and never shared what she had to endure till she was finally divorced days before her death. But Zoheb said it was worse that she had deluded them into believing that she would survive. "She left us in no-man's land," he said.

Zoheb also said that being a music composer, his sister's input was invaluable as it was always constructive criticism from a professional partner. "That is not there anymore," says Zoheb, indicating that making music without Nazia is not easy.

But he agrees that life moves on. "We are going on — with a certain part of our heart missing," he exclaimed. He said that natural deaths allow loved ones to accept the loss with time but for him "the wound will always be there".

"She died an unhappy person and she died in pain," Zoheb said with shining eyes. "This was a devastating reality for us to know. To see your loved one die in pain is the most frightening experience," he said, adding that watching a loved one's painful demise "kills the family from within". At the end (and on a lighter note), Zoheb spoke with pride about Nazia's voice — the gift she is remembered for. Of all her songs, he loves "Dil Ke Lagi" but his personal favourite is "Koi Nahi".
"I love that track," Zoheb says, the respect clear in his voice. "She sang it like nobody can ever."

Published in The Express Tribune, August 13th, 2012.
COMMENTS (50)
Comments are moderated and generally will be posted if they are on-topic and not abusive.
For more information, please see our Comments FAQ