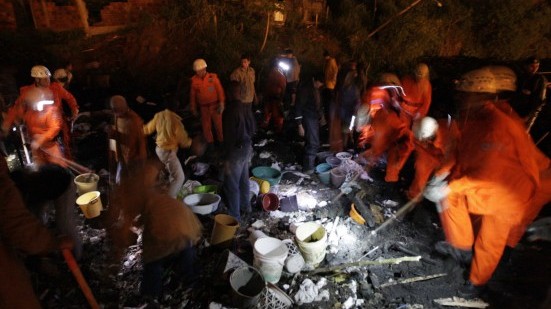 ---
RIO DE JANEIRO: Hundreds of rescue workers scrambled on Thursday to find residents buried by a landslide near Rio de Janeiro as the death toll from heavy rains in Brazil's second-largest city rose to 153.

The heaviest rains in more than 40 years, which started on Monday, triggered close to 200 mudslides that crushed shacks in hillside slums, causing most of the deaths and leaving thousands of people homeless.

Authorities say at least 10,000 houses still are at risk of collapse and the national government has sent security forces to help with rescue operations. Rio Mayor Eduardo Paes has appealed to the federal government for 370 million reais ($208 million) in aid for emergency operations.

Search teams rescued 21 people from the wreckage of houses swept away by a mudslide late on Wednesday in the city of Niteroi, across a bay from Rio. They said six bodies were pulled from the mud and another 70 are believed missing from that incident alone.

"It was a tragedy and the rescue work is still intense there. Unfortunately, there are reports of more bodies," said a spokesman for the Rio de Janeiro fire department.

Paes said the city would give top priority to finding those still trapped under mud and rubble, Brazilian news network Globo reported, even if it meant diverting resources from fixing roads and improving transit in the city.

"The priority for all of us now is human lives, between opening roads and saving lives we would rather save lives," he said, according to Globo.

Most of the damage was concentrated in slums where about a fifth of Rio's people live, often in precarious shacks. The neighborhood of Morro do Bumba, where the Wednesday night landslide occurred, was built atop a former garbage dump.

Niteroi was the worst affected area with at least 85 people dead, the fire department said, while 48 were killed in Rio.

For a third day, Paes urged Rio residents to stay home or at least avoid traveling to the city center as weather forecasts called for rains to continue until the weekend.

Traffic was flowing normally in most parts of the city on Thursday in contrast to two days earlier when the rains turned highways into lakes, left drivers stranded in cars and forced some commuters to walk home through miles of soaked streets.

The transportation chaos renewed attention on Rio's poor infrastructure as it prepares to host the soccer World Cup in 2014 and the Olympic Games in 2016.

The International Olympic Committee said in a statement on Wednesday it planned to have discussions with Rio officials once the situation returns to normal about how the disaster might affect preparations for the games.