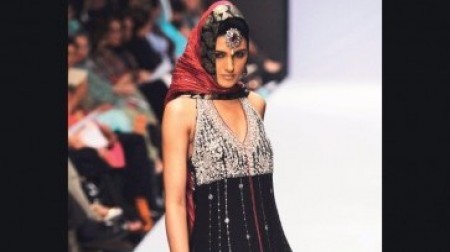 ---
KARACHI: The second day of Fashion Pakistan Week (FPW) was a far, far stronger showing than the first day.

With a packed house for the second day running, and the announcement that a designer's entire collection had been bought out by a Dubai buyer, fashionistas kicked up their heels and clutched their bags of swag (the free goodies left on the chairs by show sponsors and designers).

On the bill were Shehla Chatoor, Nida Azwer, Nauman Arfeen, the Asian Institute of Fashion Design (AIFD) and Pakistan Institute of Fashion Design (PIFD), Aeisha Varsey, Sanam Chaudhri, Anum Siraj, Mariam Qureshi, Obaid Shaikh, Abdul Samad and Shamaeel Ansari, and even though the line-up wasn't as the next three days, it still managed to hold its own.

Chatoor delivered an impressive opening, making the right choice to split her show into eastern wear and western wear segments. The finishing of short bubble dresses with gold chains and plated necklines was impeccable. While the bridals were nothing groundbreaking, the workmanship was beautiful. But the Pakistani market is saturated with beautiful embellishment and colour combinations, so if Chatoor can get women to get their chequebooks out for her eastern wear, she had a definite win.

Nida Azwer also did an abouttake from two straight seasons of showing bridal couture. The first outfit, layered chiffon in black-and-white, proved that Azwer was staying away from her path as the younger client's Bunto Kazmi. Layered, moulded, block printed and featuring gold accents, the collection was at once alluring and bore Azwer's penchant for blending cultural references. One gown was screen printed with large pots and tablas.

While the PIFD show was disappointing, the AIFD students showed that they had a strong handle on the basics that will set them apart from their peers: the origami detailing, the layering of the harem pants and the ability to focus on the fabric than overpower it with diamantes and pearls. A series of disappointing collections - that could easily have been cut out - followed by Aeisha Varsey, Anum Siraj, Mariam Qureshi, Obaid Shaikh (whose purple extravaganza felt like an endless series of desi versions of Barney) and Abdul Samad. Sanam Chaudhri, whose collection at Fashion Pakistan Week in November was met with sniggers and written off as a below-than-average designer, made a fantastic comeback.

Focusing on her major as a textile designer, Chaudhri showed a truly rip it- off-the-runway right now collection that featured block print in a contemporary setting. Jackets, pants, even skirts were stamped and the colours - from pastels to vivid blues - did not overwhelm the ensembles. Shamaeel Ansari, yet another designer whose collection was written off as being rather disappointing in November, featured screen printed designs in earthy tones and layered wellcrafted jackets and shirts on voluminous skirts. It just felt a tad overwhelming, but one believes the pieces would work extremely well as separates.