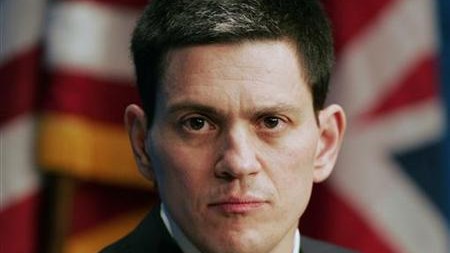 ---
WASHINGTON:

British Foreign Secretary David Miliband says there cannot be settlement in Afghanistan without Pakistan's involvement. He said Pakistan's concerns regarding India's role in Afghanistan need to be addressed.


Writing in The New York Review of Books, Britain's top diplomat said that President Hamid Karzai's government "lacks the capacity to govern" and needs to take action to rein in corruption that is sorely resented by Afghans.

But Miliband said it was not "utopian" to envision progress -- and an end to Western military involvement -- if Afghanistan reformed its political system and its neighbors committed to respecting its sovereignty.

"Within two to five years it is realistic to aspire to see the country still on the upward trajectory, still poor but stable, with a just peace, with democracy and inclusive politics taking hold at all levels," he said.

Britain, which heads to the polls on May 6, has around 10,000 troops in Afghanistan, the second largest contingent of foreign forces after the United States.

Western concerns have been mounting over Karzai, who has made a series of unusual criticisms of Afghanistan's foreign supporters, going so far as to accuse them of trying to rig last year's election against him.

"The concerns about its (the government's) credibility run deeper than last fall's elections, which were marred by widespread corruption and fraud. They also relate to the very structure of the political system," Miliband wrote.

Miliband said that provincial and district governors needed new governing powers, including responsibilities for development, security and reintegrating former Taliban fighters.

While stopping short of calling for constitutional changes, Miliband said that Afghanistan's members of parliament needed to be given a "real stake" in governance.

"Such a stake would encourage them to participate as well as to criticize, and would ultimately lead to the development of something completely alien in Afghanistan today but critical to democracy -- a constructive or loyal opposition," Miliband said.

The foreign secretary said that any lasting solution also needed to include commitments that all nations respected Afghanistan's sovereignty.

Miliband saluted efforts against Islamic extremism by Pakistan's civilian president, Asif Ali Zardari, saying it had become realistic to speak of complementary efforts on both sides of the border.

Pakistan supported Afghanistan's Taliban regime until the September 11, 2001 attacks and Western officials have long been suspicious about whether elements in the intelligence services retained support for extremists.

Miliband called for a recognition that for Pakistan, Afghanistan was "close to the core of its national security interests," including its fear that its historic rival India is building influence in the country.

"Every country needs to accept that, just as there will be no settlement in Afghanistan without Pakistan's involvement, so there will be no settlement in Afghanistan unless India, Russia, Turkey and China are also involved in the search for solutions," he said.
COMMENTS
Comments are moderated and generally will be posted if they are on-topic and not abusive.
For more information, please see our Comments FAQ