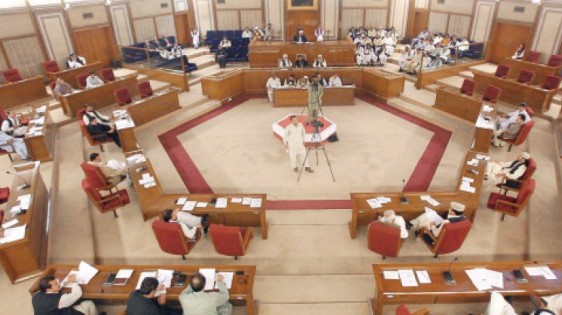 ---
QUETTA: The Levies Force, a tribal police force, stands restored in Balochistan as the provincial assembly unanimously approved the Balochistan Levies Force Bill 2010 in its concluding session.

Adviser to the Chief Minister Dr Fauzia Nazir Marri tabled the bill on behalf of provincial Home Minister Mir Zafrullah Khan Zehri. The bill focuses on reconstructing and regulating the Balochistan Levies Force for maintenance of public order "according to the law and aspirations of the people".

This move comes after the provincial cabinet decided to restore the Levies in March last year. After this decision the provincial Levies were on the ground in six districts, while federal Levies were functional in 16 districts of the province. Monday's move in the assembly has turned this decision into legislation.

In a policy statement on Sunday, the chief minister had said that during his maiden speech after assuming office he had promised that efforts would be made to revive the Levies force to maintain public order in the province. He had added the previous government had unilaterally dissolved the Levies force, turning 'B-areas' into 'A-areas' with the notion that the law and order would be brought under control.

"Time has proved that such unpopular decisions always fizzle out," he had said. Facilities for senior citizens Dr Fauzia Marri with Uzma Pir Alizai and PPP MPA Samina Raziq tabled a resolution for enacting a law for the welfare of senior citizens. The resolution read that senior citizens are assets of Pakistan and they have the right to special facilities.

The MPAs maintained that whenever the federal government was going to enact a law for the welfare of senior citizens, the Balochistan Assembly via this resolution recommends the provincial government to ensure implementation of laws for the welfare of senior citizens.

Higher education for Balochistan The other two resolutions moved Monday were on improvement of agriculture and livestock sectors in Balochsitan and another one which asked the provincial government to approach the federal government to ensure admission of Balochsitan officials for PhDs abroad.

The resolution was moved by Jamiat-Ulema Islam (JUI) MPAs Maulvi Abdus Samad Akhunzada and Maulvi Muhammad Sarwar Musakhail who said the ministry of education launched a program in collaboration with the World Bank and Department for International Development in 2003 under which an official from Balochistan was meant to be selected on open merit to study in Australia.

The resolution said the World Bank had paid educational expenditures of an official from Balochistan but the ministry of education cancelled his admission to the Australian University on the last minute. The resolution demanded that no hindrances should be put in granting admission of Balochistan's officials to foreign educational institutions. The house unanimously adopted all three resolutions.

Deputy Speaker Matiullah Aagha told the house that on April 6 the second parliamentary year of the Balochistan Assembly would be completed.
COMMENTS (1)
Comments are moderated and generally will be posted if they are on-topic and not abusive.
For more information, please see our Comments FAQ