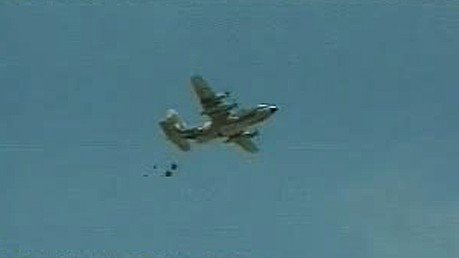 ---
THAL:
The first phase of the Pakistan Air Force's war games called High Mark 2010 has ended. The games took place at the air force's Tactical Range in Thal.
The games have been held to show integration in operations between the army, air force and navy in wartime.
The war games showed off the air force's newly-acquired capability to refuel jets in mid-air. Guests were in awe, as a large mid-air refueler flew past them with two fighters in tow.
PAF's recent inductee – the Saab Eri-eye radar system was also on display. This radar system is mounted on an aircraft and provides 300 degrees coverage. It can also detect friends and foes amid in heavy radar clutter and at low target altitudes.
Next came the PAF's mainstay aircraft with Mirages, F-7s, JF-17s and F-16s successfully bombing and strafing ground targets.
The guests were also treated to a mock anti-militancy operation conducted by Commandos. Later, PAF's flying acrobats – The Sher Dils – performed.
Amongst the guests were the prime minister, air chief and other senior civil and military officers.
The army will conduct the second phase of High Mark 2010.